TechRadar Sees Heavy Traffic While PTOM Closes Down

Future site TechRadar.com up to 5.4 million visitors six months after launch.
It was a mixed week for Future plc who announced record growth for TechRadar's U.S. website, while also revealing that it would close long-time gamer title, PlayStation: The Official Magazine.
Just six months after its launch, Future's U.S. incarnation of TechRadar.com reached 5.4 million unique visitors in September, surpassing the established U.K. site audience by more than 1 million. Although the size of the markets varies greatly, Rachelle Considine, Future U.S. COO, is happy with the results.
"I don't think we expected to grow this quickly," she says.
The growth has been bolstered by what Considine calls a "soft rollout."
American Googlers were coming to the U.K. version in droves, she says, but the format wasn't ideal for them There was opportunity to improve.
Studying the patterns and conducting audience research, the U.S. site has changed obvious elements-pricing items in U.S. Dollars instead of British Pounds, for example-along with some more obscure features-"The word 'flavor' has a 'u' in the U.K., so we had to make sure we took that out," Considine says.
To this point, expansion plans have, of course, been based on market considerations, but location has been a factor as well. With an October launch in Australia-the third TechRadar site-the site's network is now staffed 24 hours a day.
Breaking stories originating in the U.K. will be passed off to TechRadar staff in San Francisco at around 7 p.m. GMT. In turn, the Australian staff will pick up where the San Francisco team left off when they go home at 7 p.m. PT, and so on.
South America has been posited as the next market, although Considine could not confirm whether plans had advanced past the testing stage.
PlayStation: The Official Magazine Shutting Down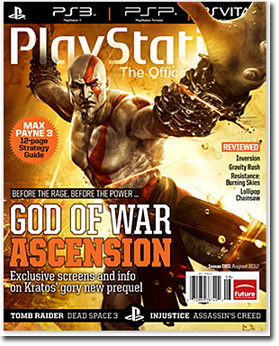 Despite the success of TechRadar, another Future property, Playstation: The Official Magazine, will shut down after the holiday issue is released this winter.
An official statement will not be released.
The shuttering of PTOM comes months after Future announced that it would also cease publication of Nintendo Power at the end of the year.
"It's not the space, I think that the space is amazing," Considine says. "We're just going through a console life-cycle change, so you're really just seeing the space in general is evolving, and I actually think it's only going to get better."
PTOM and Nintendo Power have been in publication since 1997 and 1988, respectively. PTOM has a circulation of 139,000, according to Future.
To stay updated on the latest FOLIO: news, become a Facebook fan and follow us on Twitter!
Meet the Author
---