Technology Review Has 'Tabled Discussions of Going Online-Only'

How the century-old tech title saw double-digit ad growth.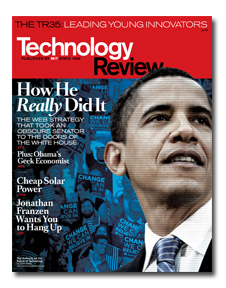 "If there's a future in print, it's in decline as an advertising supported medium." That's what Jason Pontin, editor-in-chief of MIT's Technology Review, told the crowd at the Magazine Publishers of America's IMAG conference in Atlanta.
That was in 2005. That year, Technology Review's ad pages plummeted 29.4 percent, according to Publishers Information Bureau figures. Three years later, in 2008, after a number of other tech magazines either folded altogether or went online-only, the 108-year-old magazine was one of the few consumer magazines to see ad growth, with ad pages soaring 21.5 percent.
How did they pull off such a dramatic turnaround? "We made some major changes," chief strategy officer Kathleen Kennedy told FOLIO:. "In 2004, early 2005, we felt that our print product was stagnating. We began looking at trends and saw the behavior of our audience change as well as some movement with our advertisers. We were starting to pick up traction online."
Changing the Print Model
In August 2005, the magazine's print and online teams—both editorial and sales—were combined. "You've heard that song before, especially now, but we were one of the first to do that," Kennedy said. "Even in 2006, we were still adjusting to the vision and how it comes into practice. We were fine-tuning the practice, as things were still very much being planned separately."
The magazine also scaled back frequency from monthly to bi-monthly and cut its ratebase from 235,000 to 150,000. Its circulation is 181,000. "After the first year, the 2006 calendar year, it took a while for us to get advertisers on board and get them to get it," Kennedy said. "With the lower ratebase you're still getting the cream of the crop audience but, with a page rate that is now two-thirds less than what it was then, we've been able to woo back some of our stalwart-brand advertisers." Some of those advertisers, Kennedy said, include GE and Xerox.
Pushing the Integrated Package
Like other publishers, Technology Review is seeing increases in integrated print and online packages. Kennedy said roughly 40 percent of advertisers are in print and online.
"By fiscal 2007—end of 2006, early 2007—online ad revenue surpassed print revenue by 8 percent," Kennedy said. Overall, print makes up about 20 percent of Technology Review's revenue while online is about 30 percent. The remaining 50 percent consists of licensing, events, circulation and other revenues.
In 2009, though, Kennedy says she'd "be thrilled" if print ad revenues were flat compared to 2008. "This year is a different landscape," she said. "I don't have hopes of getting 20- or 30-percent gains."
Staying in Print
Considering its recent successes in print, will this century-old tech magazine even consider following the competition and go online-only? "We've tabled discussions of going online-only," Kennedy says. "It makes sense to me why trades are doing it but we have far too many loyal print subscribers and our circulation revenue is still significant.
"We just don't see a solution that is replacing print right now," she added. "Until there's an e-ink product out there that's sufficient enough to take over for paper, Technology Review will stay in print."
Meet the Author
---