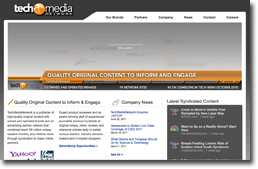 TechMediaNetwork, a digital publisher and content provider that focuses on consumer technology and science news, announces the purchase of the assets of LAPTOP magazine and LaptopMag.com in a private sale. The deal is set to close next month.
In acquiring the LAPTOP brand, TechMediaNetwork will use LAPTOP content across its network of sites, which include iPadNewsDaily.com, HermanStreet and InnovationNewsDaily. LAPTOP's editorial staff of 23 full-time employees will join the TechMediaNetwork office in New York City.
LAPTOP, which has been published for 19 years, will continue to be produced in print, web and mobile formats.
Jerry Ropelato, CEO of TechMediaNetwork tells FOLIO:, "We believe they are the leaders in the industry when it comes to mobile the news reporting aspect of mobile technology; this aspect of our business that was previously not a strong point."
He also believes that this acquisition will be mutually beneficial, as TechMediaNetwork can assist LAPTOP in aiding growth on its digital side.
Ropelato says, "LAPTOP is well-recognized in the industry; manufacturers will send them products a month before they are announced for review."
The acquisition of LAPTOP is another step in what appears to be a strategic growth pattern for TechMediaNetwork. In October 2009, TechMediaNetwork bought the consumer division of Imaginova. This sale included websites SPACE.com, LiveScience.com and Newsarama.com.
In year-over-year comparison, TechMediaNetwork has seen traffic grow 163 percent for its network of 16 Web properties, gaining a cumulative total of 19 million unique monthly visitors.