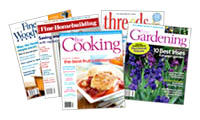 Newtown, Connecticut-based Taunton Press has eliminated the publisher position across its five magazines as part of a reorganization. Now, staff will be organized into three groups: content creation, marketing and sales. Each group will be led by a separate senior vice president.
SVP and group publisher Paul Spring has been named chief content officer. Karl Elken will continue to serve as SVP of advertising and Janine Scolpino will continue to serve as SVP and chief marketing officer.
"We believe this provides us with a more flexible way to create content for our communities, no matter the medium," Taunton president Sue Roman told FOLIO:. "This new structure is simpler, allows us to focus on how best to serve our customers and communities, and enables us to get new products to market much quicker."
As a result of the reorganization, Taunton has laid off 21 staffers, representing nearly 8 percent of its overall workforce. Two of the five affected publishers have been reassigned elsewhere within the company, Roman said. Anatole Burkin, the former publisher of Fine Woodworking, will serve as vice president and digital content director and Fine Cooking publisher Maria Taylor will now serve as vice president and editorial development director for the content group.
Taunton also publishes Fine Homebuilding, Fine Gardening and Threads magazines. Despite being grouped into the content creation division, each magazine will continue to have a dedicated editorial team, Roman said.
"From printed content to video to photography to community, our media outlets and efforts will be better served as we will be more flexible and more customer driven," Roman said.
About two months ago, Taunton launched Grow, a supplement to Fine Gardening, and recently launched a special vegetable gardening Web site.