Taste of Home Ramps Up Advertorials

Publisher says custom columns will be clearly marked.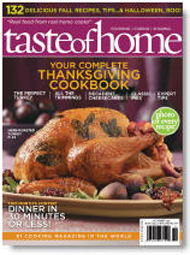 One way Taste of Home is convincing marketers to spend more money with the brand is by producing custom editorial columns in the magazine that it says are more "synergistic" with advertisers' promotional goals. The Reader's Digest Association magazine is ramping up those efforts over the coming months, it says.
"We realize that clients are looking for new and meaningful ways to connect with consumers," Lora Gier, vice president and publisher of RDA's Taste of Home and Home & Garden Media Group, told FOLIO:. "Because of the user-generated nature of Taste of Home, we know how our readers use our magazine and what appeals to them. We are sharing this information with clients and are creating advertising opportunities to connect what readers love about Taste of Home with their brands."
For example, Taste of Home created custom in-book sections that feature branded recipe cards for client Jimmy Dean that run next to the magazine's own recipe cards section. Gier said these sections are clearly marked as advertising and in no way represent a violation of the ad/edit line. "This is a win-win for the advertiser and our readers," she said.
The space in the magazine that's devoted to these special advertorial sections are "new" pages as advertising will be sold against them—no previous editorial space will be taken over by the advertorials, Gier said.
Gier declined to say exactly how much ad revenue the magazine pulls in from these promotions, but said the packages span print, online, digital and events. "The conversations we have are very strategic versus just discussing just demographics and rates," she said. "We are winning exclusive business through these partnerships."
Managed under RDA's Food & Entertaining Affinity, Taste of Home publishes bimonthly and carries a 3.2 million rate base. After publishing for roughly 15 years, Taste of Home only began accepting advertising in late 2007.
Meet the Author
---