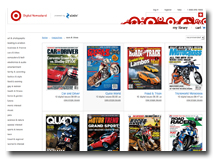 Target has just thrown its hat into the digital newsstand ring with the launch of a site to sell digital-edition single copies and subscriptions. Early in 2010, the retailer expects to broaden the site into cross-merchandising
opportunities where readers can access and purchase products featured in the magazines on Target.com.
Digital edition provider Zinio is Target's partner in the launch and hosts the co-branded site, which offers "a few hundred" titles from its publisher partners, said Zinio's CMO Jeanniey Mullen.
The selection will expand to include the full range of Zinio's portfolio, minus a few titles that don't match Target's demographic. "What really drew us to the deal was Target's affinity to the female market and the housemaking sector," said Mullen.  
Access to the newsstand is currently limited to a scrolling "New at Target" window on Target.com (which averages 28 million monthly uniques, per Compete numbers), but Mullen said that broader accessibility is forthcoming and will include links in the main navigation bar, a mini section, and main site search integration.
The newsstand will initially focus on magazine sales with titles such as Elle, Dwell and Woman's Day available, but starting in 2010, will evolve into a cross-merchandizing operation, said Mullen. Readers will eventually be able to link from the pages of the magazines to Target.com where they can purchase featured products.
"Between now and the end of the year we're in the first phase of the project—getting stats on which titles resonate and what products and integrations make the most sense," she said. "Down the road we have a number of partnerships to cross-merchandise."
Mullen declined to provide any benchmarks, but noted that after the holiday season both sides will ratchet up marketing for the site.
The revenue share favors the publisher, which remains in control of issue pricing, said Mullen. "Our commitment to publishers is they will remain in control of their pricing. The publishers get their remit percentage and what's left will be split between Zinio and Target."