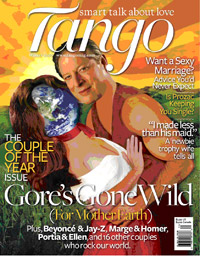 Tango, a two-year old independent women's magazine about relationships, has announced that it's folding its quarterly magazine into a yearly themed edition, and has hired two new positions in an effort to expand its "digital platform."
"Community is key to our business model, which is why a significant online presence is essential," Tango CEO and founder Andrea Miller wrote in an email to FOLIO:. "Focusing on a digital platform will enable us to grow much more quickly and allow us to create an active, engaged community of women around our content." Tango plans to update its tangomag.com site several times a day with interactive content and features as well as social media tools.
To ramp up Tango's online presence, Miller has hired an executive vice president of interactive and a coordinating producer for videos. In the process she also has had to eliminate one "print-based" position, she wrote in the e-mail.
The yearly print edition-the first of which comes out in Winter 2008-is planned to be a "Couple of the Year" issue, a franchise extended through the Web site and, potentially later, through a live event and television partners, as Miller wrote.
Miller says Tango is entering into licensing deals and sales and marketing partnerships to extend the brand in additional ways, like nationwide events.
"The print magazine was key to putting us on the map," Miller said in a statement elsewhere. "A digital platform will enable us to grow much more quickly and better leverage all that we have done to date."
Tango's business strategy includes breaking the magazine's target audience into content segments according to their trademarked "LoveStages": Single, Taken, Engaged, Married or Starting Over.