Tad Smith to Join Cablevision

Former RBI CEO to lead cable company's newly-created local media group.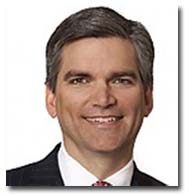 Less than two weeks after leaving Reed Business Information U.S. as chief executive, Tad Smith has joined Bethpage, New York-based Cablevision Systems Corp. as president of its newly-created Local Media group.
Smith's appointment is effective September 1.
Reporting to Cablevision COO Tom Rutledge, Smith [pictured] will oversee the company's News 12 Networks and Newsday Media Group, which publishes Long Island and New York City's Newsday. Cablevision said it created the Local Media group to "more effectively organize its local media and programming assets under one business unit."
"Tad was never really a b-to-b media guy," one publishing company CEO told FOLIO:. "He is Hollywood and the entertainment business fits his interests well."
The source said, however, that Smith might not remain at Cablevision for very long. "It seems like a new position with some real challenges, but Tad is a talented guy," said the source. "The fact that Tad landed this as soon as he did likely means he has been looking for a while. I would expect that this is an interim position until Tad gets his own deal running a media company."
Smith resigned as CEO of RBI U.S. late last month when London-based parent Reed Elsevier announced plans to put a large portion of RBI's U.S. portfolio back on the block.
Smith joined RBI in 2000. Prior to that, he served as senior vice president of e-commerce for Starwood Resorts and Hotels Worldwide.
Meet the Author
---