The Tablet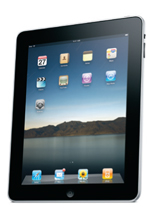 The tablet platform, almost more than any other technology, has captured the hopes of publishers everywhere.
Last year, we included the e-reader in our FOLIO: 40 Industry Influencers list. This year, it's the tablet, particularly Apple's iPad, but also a host of follow-on products that are close on its heels that have the industry not only hoping for great things, but actually prepping fully functional electronic magazines for publishing on the devices. Multi-touch, multi-function, color screens have catapulted the format, design and interactivity beyond what the Kindle originally started.
It's progressed to the degree where the industry's biggest publishers are joining together in the Next Issue Media spin-off, which is developing technology and software that, as its core strategy, keeps the production, revenue and customer information fully in the hands of publishers. And Hearst, which is part of the Next Issue Media joint venture, has independently incubated the Skiff, a tablet device and platform, which is set to launch this year. There's also the Que proReader, introduced by Plastic Logic and expected to launch this month, but was delayed to a mid-summer delivery. Dell, HP and Microsoft are said to be releasing tablets as well.
Conde Nast and Time Inc. have been bullish, prepping brands for the iPad. Conde has Wired on deck (the magazine's creative director, Scott Dadich made this year's FOLIO: 40 for directing the new design and functionality). And Time Inc. will have versions of Time and Sports Illustrated in the pipeline, too—SI has even hired four dedicated editors for the tablet version.
It's still early days, but there are promising customer interaction metrics emerging. Next Issue Media says it's has been working on this, too. The company shared some focus group results at the recent Magazines 24/7 event: After consumers experience a demo, their take-rates shoot up from 22 percent to 39 percent; at renewal time 53 percent of subscribers said they would renew with the digital product; 40 percent of non-subscribers said they'd subscribe to a digital/print bundle.
And, on Apple's first day of pre-order sales for the iPad, consumers called dibs on a reported 120,000 devices, bringing in an estimated one-day take of $75 million.
VITAL STATS: Tablet devices are popping up everywhere. Apple logged an estimated 120,000 pre-orders on day one, and focus group take-rates double after a demo.
BACK TO THE 2010 FOLIO: 40 MAIN PAGE 
Meet the Author
---