T-Shirt Company Launches Magazine for Fun

Threadless' Faesthetic contains no advertising or promotion.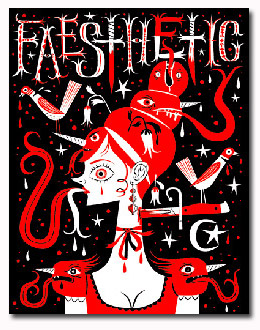 With all of the doom and gloom we have to report on in the magazine industry these days (to get an idea of how dire the situation has become, I had to look up "layoffs" on Thesaurus.com—"cuts" and "slashings" were sounding too, you know, sharp) I thought it might be nice to point out a feel-good story that's at least tangentially related to magazines.
Threadless—an upstart t-shirt company driven by an engaged online community (which, in turn, prompted Inc. magazine to feature Threadless on its June cover as the "most innovative small company in America")—publishes a magazine, too. It's called Faesthetic, a curated "collection of art and oddities" showcasing some of the t-shirt designers' work, which the company will now publish three times a year. (That's up from, well, one.)
The company sent me a copy. It's a beautifully designed magazine, heavy paper stock—which I'm told is a step up from its humble beginnings as a photocopied 'zine in 2001—and not a thread, er, shred of advertising. In fact, the only mention of Threadless is a tiny logo on the masthead, which gives no URL or phone number or any clue as to what Threadless even is.
The company prints 5,000 copies, distributing them to artists and friends and selling them online for $10, all of which amounts to little revenue. No business model, no recouping of printing costs, nada.
Of course, you can afford to do this when you have $30 million in annual sales and 30 percent profit margins, as the Inc. article says. But my hunch is that these guys know exactly what they're doing: giving something back to their "artists"—the users who generate the designs for the $30 million worth of t-shirts they sell every year. A small print run magazine that is generating a ton of goodwill among the people who drive it. That's something you can't really monetize.
Meet the Author
---