Swedish Magazine Editors Undergo Plastic Surgery for Feature

Extreme cuts: How far would you go to get the story?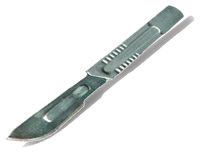 A Swedish magazine has taken experiential journalism to a new extreme.
Editors at Dorian, a magazine targeting gay men, underwent surgical procedures—including nose jobs, liposuction and facelifts—for a feature story the magazine published about plastic surgery.
"Dorian Magazine represents an artistic fantasy world with an idealized beauty," creative and fashion director Jake Rydqvist said in a report.  "Having the editorial team undergo plastic surgery in order to get insight into the ideal we promote was almost a question of credibility."
For the story, Rydqvist had excess skin removed from above his eyes. Editor-in-chief Benjamin Falk, who says plastic surgery won't cure self-esteem problems, had liposuction performed on his chin.
Going under the knife for a magazine story seems, well, excessive, but I guess getting some work done on the boss' bill can't be all bad.
That said, how far would you go to get the story?
Meet the Author
---