A Surge in Publishing Bankruptcies

Profitable or not, overleveraged companies are at risk.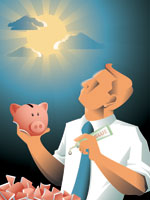 With annual revenue of more than $2 billion, Reader's Digest may be the largest magazine publisher ever to file for bankruptcy. But it probably won't be the last this year. The private equity frenzy of the past decade, combined with the unprecedented downturn, has caught up with the industry.
So far in recent months, supplier companies including distributor Source Interlink and printer Quebecor World (now called World Color Press) have filed for protection, and publishers including Cygnus Business Media and the newspaper giant (and owner of Connecticut) Journal Register Co. have as well.
Summit Business Media is said to be in the process of addressing several leverage covenant issues in its bank lending agreement, with sources saying the company has experienced a technical or paperwork default with its covenants due to a drop in earnings rather than payment default issues. The publisher recently closed or sold off several business lines, including its Art Group and Executive Enterprise Institute.
Some publishing companies that have been at the top of their categories (or even remain so) are now financially troubled and facing speculation about their fate. One is the residential construction giant Hanley Wood, long considered one of the best-run companies in b-to-b media. Another is Advanstar Communications, which was acquired by Veronis Suhler Stevenson in 2007 for $1.1 billion and is saddled with several hundred million in debt. (Advanstar is no stranger to bankruptcy—it endured the process in the early nineties.)
To be clear, our sources suggested that these companies might be vulnerable to a dramatic restructuring, not necessarily bankruptcy. Hanley Wood CEO Frank Anton said the company is not considering a Chapter 11 filing, and Advanstar didn't provide comment by press time.
"That big media companies with a lot of leverage are filing for protection is understandable right now," says one financial observer. "When you start seeing pure strategic companies filing, that will be the bigger story. This fall should be interesting for the traditional media landscape. Few companies probably have NOT breached their covenants."
Aspire Media CEO Clay Hall says there are some tell-tale signs for companies that might be in danger. "Companies that are not number one or number two in their markets are likely candidates for bankruptcy," he says. "Companies that continue to operate with the same strategies they had several years ago. Companies with higher than four times EBITDA to debt ratios. Companies with greater than 50 percent of revenue coming from advertising."
Leverage is usually the culprit. Even profitability doesn't matter if the debt ratio is too large. "The companies that are vulnerable are the ones that have a lot of debt and are aggressively leveraged," says Cam Bishop, founder of Clearview Resource Group and former CEO of Ascend Media. "And that's the profile of most companies in the last five to eight years. That doesn't mean they're unprofitable. Some are extremely so, but covenant breaches that occur are primarily ratios that fall out of the range they're allowed to be in given the credit agreement. A publisher may only have one covenant or several depending on the structure. They can be in compliance on all but one and they're in breach. That can force them into Chapter 11 or some kind of restructuring."
FOLIO: spoke with several operators about bankruptcy potential within the industry, what publishers need to do to come out of it and the dangers along the way.
Coming Out of Bankruptcy
Filing Chapter 11 doesn't have to be the kiss of death. Reader's Digest CEO Mary Berner told staffers last month that its voluntary pre-arranged Chapter 11 filing is "the best type of bankruptcy to be in" and is "strictly a balance-sheet issue" with no mass layoffs or salary cuts planned. The move will reduce Reader's Digest's debt from $2.2 billion to $550 million.
Ziff Davis filed for Chapter 11 in March 2008 and emerged in June of that year after reaching an agreement with an ad hoc group of shareholders to de-leverage the company's balance sheet by converting more than $428 million in funded debt to a new common stock and a new loan note that was said not to exceed $57.5 million.
Quebecor World filed for bankruptcy protection in January 2008 and emerged in July 2009 having successfully closed $800 million in exit financing facilities. "We had a capital structure that was simply too laden with debt versus equity to manage our business effectively," says senior vice president of market development Sean Twomey. "When our proposed sale of the European properties fell through, we got caught in the credit crunch. The key reason we've been successful exiting bankruptcy protection is because the underlying business is viable."
But that doesn't mean it's painless (particularly for the equity holders that get squeezed out). The average Chapter 11 process in the U.S. runs for a year and a half and should be considered a last resort. "Once you go into Chapter 11 the courts have the authority to make decisions and you never know what the result will be," says a publishing executive who wished to remain anonymous. "You go in with something prepackaged and the court could cut a different deal. One thing to keep in mind is that when a publisher declares bankruptcy, its lenders aren't collecting debt service. The only people that make out in Chapter 11 are the lawyers. They get paid first."
Chapter 11 also limits investment in the business—which can be fatal at a time when publishers are trying to reinvent themselves. "By the time a company gets to the Chapter 11 stage they've probably taken so much out that they've done irreparable damage to the brand," says Harbor Communications president and co-founder (and former Penton president) Dan Ramella. "They probably need operating cash to give these properties a chance to revive themselves. As you continue to cut and trim back, the immediate effect is pretty imperceptible but as time goes on you've done so much damage to the brand it's almost impossible to get it back."
Another publishing exec voices doubts about the recovery potential for some Chapter 11 candidates. "Some companies do not come back from the brink," he says. "It is hard to imagine Cygnus long surviving as currently constituted. Almost the whole portfolio includes number two and number three titles and small, low margin trade shows. The Web presence is spotty at best. It doesn't seem like a winning formula…for anybody."
Bankruptcy Not the Only Option
Still, filing for Chapter 11 isn't the only recourse and often it's the threat of Chapter 11 that sends a company looking for alternatives. "Restructuring is an alternative to bankruptcy but different classes of lenders have different rights when it comes to negotiating a restructuring," says Charlie McCurdy, chairman and CEO of Apprise Media. "To accomplish one, lenders need to agree to a lower level of debt obligations. Often the threat of bankruptcy is used as a deterrent to bankruptcy in order to expedite an out-of-court restructuring."
Other publishers can sell off assets for a cash infusion. "Companies try to sell assets and get a price greater than the multiple of their debt leverage, which will in effect reduce their debt leverage," says Bishop. "They may make less profit, but they go back into compliance."
Sometimes investors can put more money into the company to bring it back into compliance but often the credit agreement doesn't allow that. "The PE guys would like to sell the business, that's ideal," says Ramella. "But given the nature of multiples and what's happened in the last couple years, business media is not as attractive to financial buyers as it was in the past. Historically, once they got in the game, they just kept selling to one another. Now the music stopped and the guys holding the businesses that are struggling can't find anyone to buy it."
Some private equity owners may just walk away. With Reader's Digest reducing 75 percent of its debt, that's basically what Ripplewood is doing. "Bankruptcy is all about not being able to pay creditors, whether it's suppliers or banks or whatever," says Ramella. "If one of these companies trips its covenants and the bank comes calling, they're left with no option. They have to convince investors to put more in play and they don't like to do that. It's like people who have upside down mortgages, they just walk away. That's what PE is doing when they have to go that route."
A Permanent Shift for the Industry
Regardless, that means the way the business is run fundamentally changes. "At the end of the day, CEOs manage more for the credit agreement than what's in the best interest of the business itself," says Bishop. "You make decisions on the entire cost structure and where you invest in business. If you can't handle it at the moment based on forecasts—usually quarterly, when most tests of covenants are based—that old cliché that cash flow is king becomes a key component. Timing on paying and receivables plays a greater role in the decision process than in healthier times. The decision hierarchy changes quite dramatically and we're still in a period in our industry where a lot of investment is going into e-media component without commensurate return."
High debt may protect shareholders but not the company. "Assuming that a company performs to levels that allow for full and timely repayment of principal and interest, the more debt a company takes on, the higher the theoretical return for shareholders and the lower their risk in a doomsday scenario," says Hall. "High debt means less equity invested and less for shareholders to loose in such as case. That said, I am not in favor of loading a company up with debt just to get a few extra points in return for shareholders. I prefer lower debt to equity ratios than have historically been offered in order to have the freedom to invest more profits into the business. If a CEO is unburdened from having to manage debt covenants and can't earn back those extra points of return that high debt would have theoretically provided by being able to focus on the business instead of managing to banks, the company has the wrong CEO."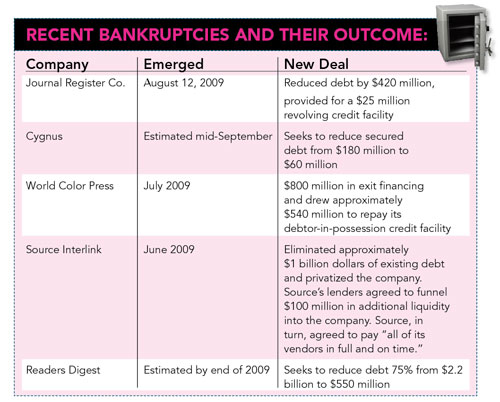 What Happens Next for PE and Publishers
While lenders began seeking stricter covenants last year, the industry could see a return to "covenant-lite" deals that offer the publisher a little breathing room and flexibility to operate.
Multiples will remain low, even as the "fire sales" so many financial observers were predicting earlier in the year become more common.
"There are a lot for pre-backed businesses that aren't overleveraged or at risk of going under," says Ramella. "Some may be interested in taking it piecemeal but how many want to buy the whole business—that remains to be seen. A lot of companies are loath to sell individual properties over bundles but the price of entry in publishing is not prohibitive. But you do need deep enough pockets to find it, and if you're patient, you'll be a survivor. A lot of companies are struggling to have profit centers and brands that make money. They're probably throwing cash off, but not enough to cover the debt service. That's where lot of these companies got caught."
Meet the Author
---