A Surge in 'Kindle Killer' E-Readers

Barnes & Noble's 'nook,' Plastic Logic's 'Que,' and more.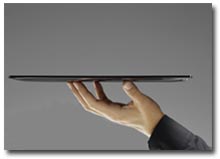 The vendor-owned e-reader market—which until recently has been dominated by Amazon's Kindle and Sony's Reader—is getting considerably more crowded.
Barnes & Noble on Tuesday announced the launch of "nook," the bookseller's e-reader for books, newspapers and magazines. Calling it the industry's first "Android-based" e-reader, Barnes & Noble said the device is about the size and weight of a paperback book and features E Ink's Vizplex display. (E Ink is the company that developed Esquire's blinking 75th anniversary cover last year.)
The nook has a color touch screen, features adjustable text size and can hold up to 1,500 e-books and other printed content (up to 17,500 with a 16GB memory card). With Wi-Fi and access to AT&T's 3G wireless network, the e-reader allows users to browse and download books, magazines and newspapers, the bookseller said. Unlike the Kindle, nook enables users, with its "LendMe" technology, to share a "wide selection" of content for free for up to 14 days at a time.
The nook is expected to begin shipping at the end of November and is retailing for $259.00, Barnes & Noble said.
Meanwhile, Barnes & Noble also said it has partnered with Adobe to help standardize the open "EPUB" and PDF e-book formats by adopting Adobe's Content Server, software it said "protects" e-books that have been downloaded to the nook. Additionally, Adobe said it is integrating the bookseller's e-reader social content protection technology into its content server system, the Adobe Reader Mobile SDK and, eventually, into Adobe Digital Editions.
The Industry's 'Largest' E-Reader Screen
Then there's Plastic Logic, the Mountain View, California-based company that said earlier this year that it planned to launch a new electronic reading device in 2010. It appears the company is on target. On Monday, Plastic Logic said it will unveil the reader, called Que [pictured above], January 7 during the Consumer Electronics Show in Las Vegas.
The wireless-enabled Que reader will be the size of a pad of paper, measuring 8.5 x 11 inches and less than 1/3-inch thick. Also utilizing E-Inks Vizplex display technology Plastic Logic said the device will have the "largest touch screen in the industry," making it ideal for reading magazines and business documents in Microsoft Word, Excel and Powerpoint formats, as well as Adobe PDFs.
Product availability and pricing, however, is still up in the air as Plastic Logic plans to announce those details at CES.
E-Reader Based on Google's Android Software
As if there wasn't already a landslide of e-reader news, Fremont, California-based Spring Design said this week that it is launching its own device, called Alex. Based on Google's "Android" software for mobile devices, the forthcoming e-reader will feature a dual screen, called "Duet Navigator."
On a 3.5-inch LCD color screen, users will be able to access multimedia content via the Web while a six-inch monochrome E-Ink electronic paper display can be used for plan text and toggle to view content on the color screen while saving battery power, the company said.
Spring Design first developed the dual screen in 2007 and has since been working with a number of publishers, including book stores and newspapers, to "share its vision and capabilities," it said.
Meet the Author
---