Sunset: Savor the Central Coast

Lessons in growing—everything from attendance to abalone.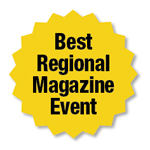 "For many years, we were wondering: How can we bring our brand to life in a regional event? What would be the right region?" says Shannon Thompson, vice president of marketing for Sunset. "And the Central Coast really seemed to be the right fit for us, because of the growing region that it is."
When Thompson says the region is "growing," she means in terms of produce as well as popularity. Dishing out the area's abundance of food and wine in a four-day event has been her goal since Savor the Central Coast launched in 2010. Since then, the California region has proven fertile ground for showcasing the Western lifestyle pursuits that drive the Sunset brand.
On a Growth Trajectory
And steady growth, in terms of attendance, has been the strongest indicator of Savor's success. "The first year we had 6,500 attendees," says Thompson. "Now we're at 10,000, and we're projecting 12,000 for 2013. It's growing every year."
In partnership with the tourism board of San Luis Obispo County, in 2012, Sunset spread a tableau of experiential events that brought the region alive. Guests spent an average of $375 per ticket over the four-day weekend in September, selecting from a menu of often sold-out excursions that included a kickoff soirée at Hearst Castle, crushing grapes at a local winery, and tours of a sustainable abalone farm with editor-in-chief Kitty Morgan.
On Saturday and Sunday, celebrity chefs including Ted Allen, Susan Feniger, and Rick Moonen served up the flavors of central California in seminars to thousands of attendees at the historic Santa Margerita Ranch.
New in 2012 was the launch of Sunset's International Wine Competition Grand Tasting and Dinner, where winemakers mingled at the table with consumers. In 2013, Thompson says, the award-winning wines will be poured at the opening night event at Hearst Castle.
"Sunset is a magazine that makes you want to get up and do, as opposed to just aspire to do something," says Ellie Nowak, Sunset's associate marketing manager. "It's so different from any other food and wine event out there because of the ability to really get involved. That's a fresh experience in itself."
With 80 percent of guests polled onsite saying they plan to return, Thompson says Sunset's editors will keep their finger on the pulse of food and wine trends to continue to showcase the region's freshest, right down to the produce growing in the event's on-site edible gardens (this year, that was fresh herbs for cocktails, she says).
Editorial Guidance
"We really use our brand, and what our editors are seeing, to guide the content of the event," says Thompson. "We ask, 'What are people interested in right now? What are they cooking with? Where do they want to travel?'" Staying true to the Sunset brand, she says, is what keeps the event authentic and what encouraged an 11 percent growth in attendees in 2012.
"We have a model with our June event, Sunset Celebration Weekend, and we've seen that event grow to over 22,000 attendees in its fifteenth year," Thompson says. "Sunset Savor the Central Coast is on that same growth trajectory!"
Meet the Author
---