Sunset Magazine

Eddie Winner: Best Full Issue, Regional, Consumer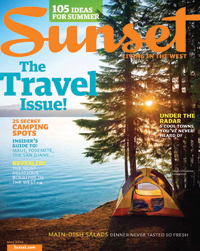 Sunset's motto is that the West is not just a place; it's also a state of mind. The magazine showcases the region's spirit of diversity, healthy living and adventure in all aspects of life, from travel and food to home and garden. Sunset zones its five regional issues, has a circulation of over 1.2 million and is published 12 times a year by Sunset Publishing Company.
Editor-in-chief Katie Tamony shares details about the winning May 2010 issue that focused on travel all around the West. "We covered the iconic places that people always love to read about in the West—like Yosemite and Hawaii—but we did them with a true insider's view. Then we also had off-the-beaten-path, small-town places that even if you lived there a long time, still offer so much discovery. I think the blend of having the big-ticket destinations and then the close-to-home places really made it a fabulous issue for our readers."
Sunset featured the top 25 new campgrounds to fit your camping personality—whether you're a first-timer, looking for a family-friend locale, feeling adventurous, or want to get away from the crowds. They also covered the restaurant scene in little-known Templeton, and did a story on the changes taking place in San Francisco's Chinatown.
Tamony says the most popular story in the issue was, "The Hunt for the Best Burrito." "We got such great reaction from our readers because, of course, everybody who lives in the West has their favorite burrito place." The story package included the differences between Northern California burritos and Southern California burritos, the "must-see, must-eat" burritos across the state, burrito recipes, a guide to salsa bars, and readers' favorite burrito places.
Tamony says Sunset touted the May issue as "the travel issue" on the cover and promoted the cover line "105 great getaways for summer." She says they will be doing the travel issue again this May as it was very well received by readers and advertisers. "Because of that regionality that we already possess, and the focus on 'close to home,' it does require more reporting, photography, and expenses," says Tamony. "But it's a very fun issue to put together."
Meet the Author
---