Summit Business Media Shutters Florida Underwriter Magazine

The magazine's unique regional focus to be covered by Summit's other brands.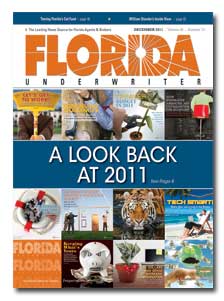 After 27 years, Florida Underwriter magazine is ceasing operations, the December 2011 edition will be the last issue printed. The self-proclaimed voice of the Florida insurance industry is citing the uncertainty surrounding digital mediums, coupled with Florida's struggling economy, as reasons for its closure.
"It was the only regional title we owned so it was an outlier from that standpoint, but we also heavily cover that topic with our magazine and Web sites that service the entire sector," says interim president and CEO of Summit Business Media, Tom Flynn. "We believe we already cover that sector very well and we believe it's more effective for our readers to cover it within the other brands in that market, which is what we're focused on."
The decision was made in the fourth quarter of 2011 before the December issue went to print. While the company wants to focus on other areas of its portfolio, it seems that compounding pressures also led to its closure.
"Unfortunately, the double demons of our state's falling economy and the dominance of the Internet over print products have brought us to this difficult decision. This will be the magazine's final issue," writes Joan E. Collier, editor of the publication, in a goodbye note to readers.
Summit Business Media has four print titles that cover the insurance and property casualty industries in addition to a Web site, PropertyCasualty360.com, which covers this industry at large. Before the title's closing Flynn says there were approximately 8,000 print subscribers.
"As with all publishers, we always examining our portfolio—we are committed to being the premier provider of information for our markets," he says. "We want to be really agnostic as to distribution methods and we want to make sure we provide the information to our readers and customers in whatever format they want. We will continue to do that throughout or portfolio, not just with property and casualty, but we want to make sure we listen to our readers and that we adapt and adjust accordingly to how they want to receive information."

In January, Summit Business Media filed for Chapter 11 bankruptcy and repositioned itself by May after cutting more than $140 million in debt. In early October, Andy Goodenough, the company's CEO and president, stepped down "to pursue other interests," which made Flynn acting CEO and president in addition to CFO and COO.
When asked if the closure was related to the bankruptcy, Flynn says the two are separate issues.
"This was a business decision unrelated to anything related to a reorganization," he says. "It was to better serve this market and our customers."
Meet the Author
---