Summit Business Media Reorganizes, Changes Name

Summit Professional Networks now aligned under three market verticals.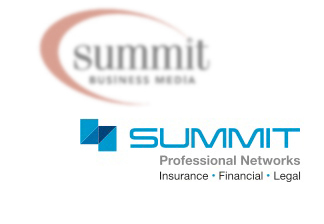 Summit Business Media is now called Summit Professional Networks. The name change reflects an effort over the last year and a half to group assets under the three core markets the company serves: Insurance, legal and finance.
Previously, and mostly as a result of a string of acquisitions Summit had made, the company's content products were organized in groups according to their purpose—data, training and education, events, for example. Now those products have been corralled into the vertical-specific divisions, with the key point being they're now more accessible to customers.
In the previous structure, a customer that signed up for a continuing education seminar may not have known about its relationship to other products under the Summit umbrella.
"They were a string of discrete operations," says CEO Steve Weitzner. "Within each of those there had not been an effort to weave it all together as something that's identifiable as one source. We began the process of simplifying access to them and making them more navigatable."
The new structure in each of the verticals will be supported by a membership model that allows a customer to set up a single profile to gain access across the platform of products within a market.
The membership concept ties into a new focus on community elements that will allow customers to interact with each other and the editors.
All of this is in response to market changes that are forcing b-to-b media companies to engage with their audiences on an even deeper level. Digital strategies that provide more targeting capabilities have created a new set of competitive threats that necessitate a tighter connection with customers.
"Digital has had a number of impacts on b-to-b, with some obvious ones like measurability of results," says Weitzner. "But some other impacts are less obvious. The broad business publications are attempting to carve out a better position, using targeting to enter our markets. The response has been to get a lot closer to the audience and the ability to serve the audience in its day-to-day workflow is important."
That audience connection has an impact on the marketing side as well. "The deeper we can create relationships with the audience the better value we can provide the marketer," says Weitzner.
Summit is betting the membership model will provide new opportunities for marketers to interact with and access its audience. While the company has had a customer solutions (marketing services) group in place over the last year, these new organizational changes will include new research initiatives that will be added to the sponsorship menu items.
"A big change for the marketer will be a focus on research," says Weitzner. "We'll be doing research across these networks of professionals and we'll be able to deliver that in different forms—market intelligence, but also a deeper understanding of where available business is."
Meet the Author
---