Summit Business Media Closes Print Edition of Treasury & Risk, Selling Futures Magazine

Moves signal continued portfolio adjustment in core markets and platform scale.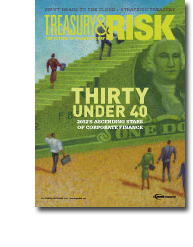 Summit Business Media has shut down the print version of Treasury & Risk magazine and is in advanced talks to sell Futures. The moves are part of on ongoing adjustment of resources towards digital and brands that offer scale in core markets served.
In other words, the company is focusing on developing only its market verticals that offer the best opportunities for multiplatform buildouts, while closing or selling off the ones that don't.
While Treasury & Risk will no longer be published in print, the company will continue to support the brand digitally, says John Whelan, executive vice president of Summit's media division. Summit will also work with core advertisers to build custom content solutions associated with the brand's audience.
"Where the product doesn't fit we're divesting, but where it is a fit we are repositioning it within the portfolio," he says. "As we migrate to an increasingly all-digital environment, that ability to deliver scale in a digital format is really important."
Futures, he says, no longer scales across Summit's core markets, but is profitable and a viable brand on its own. The company is in advanced talks for a transfer of assets, he says.
While the Treasury & Risk shutdown resulted in layoffs—some associated with the title and others as part of a continued refocusing of the business—CEO Steve Weitzner says recent hires aligned with the digital operation have kept the overall headcount stable. "In the bigger picture we have also been adding resources with experience in digital businesses so total headcount at Summit has not changed," he says.
Meet the Author
---