Summer Covers: What's Hot and What's Not

Esquire and GQ feature some classic dos and don'ts.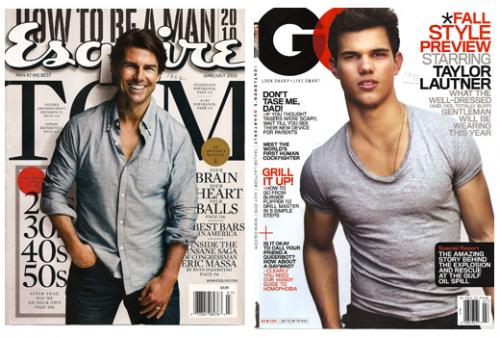 With its July issue, GQ writes the rules for creating a cool cover. They're not complicated rules and they should be of help to just about anybody worried about lagging behind in perception by newsstand buyers. Esquire's June/July cover gets caught with a potential loser in Knight and Day star Tom Cruise, trips up on its own cover lines and design, but wins points for its service orientation.
Rule One: Pick a cover subject under 20. Taylor Lautner can hardly act but he's hit the jackpot by playing a werewolf in the Twilight movies. And, most of all, he was born in 1992.

Rule Two: Write 100 words' worth of cover lines without looking crowded. Some of the text is small but there's plenty of room to spare and it's easy to read.
Rule Three: Use nothing but caps. Caps are supposed to be harder to read but when they're set in a modern sans serif font they're, in fact, very manageable.
Rule Four: Set all the type in either black, red or silver.
Rule Five: Use a white background. Sill the most effective attention getter on the newsstands.

Rule Six: Label your best reportage SPECIAL REPORT
Rule Seven: Switch the traditional placements around. Instead of appearing on the top left, under the logo, the main headline is the top right hand corner where the snipe usually appears. The snipe is now on the right where the less important cover lines should go: they're on the left this time.
Rule Eight: Unlike Men's Health, put the styling credits on the inside instead of the cover.
Esquire's June/July cover sold its soul to Hollywood publicists to score Tom Cruise. But the summer release, Knight and Day, got demeaning reviews across the board. The result is that the cover is pitching a loser, but that's not all.
Uncool: The main headline HOW TO BE A MAN. It doesn't work in combination with Scientologist Tom Cruise. I'll leave it at that.
Uncool: YOUR BALLS, a cover line that may have shocked us in 1968, but that was a long time ago. Now it just sounds dirty.
Uncool: The messy design had its day three years ago. Now it looks tired and vain. In fact, the cover is so messy that it's run out of room after 40 words.

Uncool: There's no mention of Jennifer Lawrence, the prettiest person in the issue.
Uncool: No mention either of the 25-page MaHB (Man at His Best) section. Funny how magazines forget their perennials.
Cool: Esquire's cover lines have page numbers. Except for Reader's Digest, they're found mostly on trade magazine covers, but they're being used more and more because they save time.
Except for fashion and food, GQ makes no attempt at being useful while Esquire is all service. It's paid off before and will, no doubt, work this time regardless of the uninspired choice of cover subject.
Meet the Author
---