Success Expands Distribution to U.K.

Publisher sees opportunity for magazine abroad.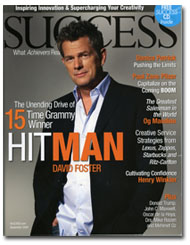 Success, the personal development magazine that has folded three times in its 118-year history, is about to see a new life again—this time overseas.
Dallas, Texas-based media marketing and communications company VideoPlus—which publishes Success—said about 5,000 copies of the U.S. edition of the monthly magazine will be on newsstands at select WHSmith book and retail stores across the U.K. The initiative began with the magazine's September issue.
"We have several international subscribers who pay an international sub rate that have wondered where/how to get it in the UK.," Success editor-in-chief Deborah Heisz told FOLIO:. "Also, the parent company has several European clients who would like the publication available for their teams."
Success publishes roughly 200,000 copies monthly in the U.S. and Canada. Heisz said that, depending on the sell-through, Success will consider expanding its U.K. distribution.
A Rocky Past
VideoPlus acquired the rights to Success' title, trademarks and logos in August 2007 after the company filed a lawsuit in federal court against the owners of the magazine, claiming trademark infringement.
Success launched in 1891 as a personal development magazine but folded in 1924 following the death of its founding editor Orison Swett Marden. After being relaunched decades later, and having a number of owners over the years, the magazine folded for the second time in 2001.
VideoPlus relaunched Success in November 2007. Since then, the company acquired the assets of Jim Rohn International and Your Success Store and their companion Web sites. Both are personal development companies specializing in catalog sales, speaker's bureaus and public events.
Meet the Author
---