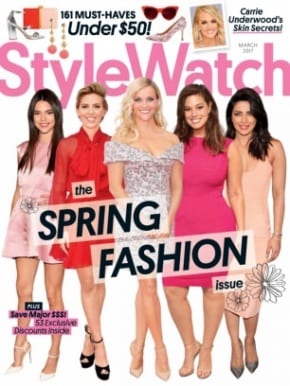 Time Inc. is rebranding StyleWatch as PeopleStyle magazine, combing the print title with digital assets that already exist under the "PeopleStyle" moniker, in a move the publisher says will boost e-commerce efforts while growing the magazine's audience.
PeopleStyle magazine will sit under the People brand and include slightly more celebrity coverage, beginning with the September 2017 issue. There will be eight issues total throughout 2017.
The rebranded title is led by StyleWatch editor-in-chief Bethany Heitman, and Andrea Lavinthal, beauty and style director of People. Heitman and Lavinthal will report to Jess Cagle, EIC of People. Cece Ryan will continue to oversee sales as SVP of Celebrity, Entertainment, Style and Multicultural.
"As we continue to build the People brand and its digital verticals, fashion is a critical part of our strategy," said Cagle in a press release. "StyleWatch's young audience is remarkably receptive to advertisers, and it will play a key role in Time Inc.'s e-commerce expansion. By rebranding as PeopleStyle, the magazine becomes part of a singular multimedia brand that lives on digital, mobile and social platforms and as a weekly print section in People."
StyleWatch has an audience of 5.198 million, according to the February 2017 Brand 360 report. The magazine reports a rate base of 825,000.