Stunner: Nat. Geographic Captures Three Ellies

In an upset, New Yorker, New York—nominated for a combined 21—win just two.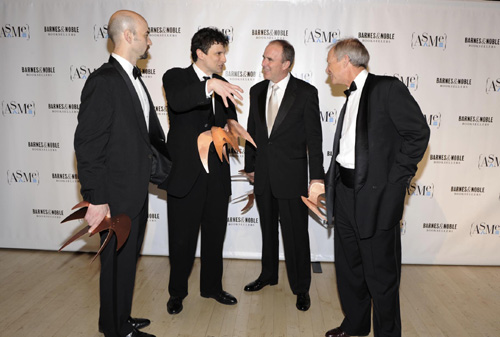 Winners: James Bennett, editor, The Atlantic; David Remnick, editor, The New Yorker; Chris Johns, editor-in-chief, National Geographic; John Q. Griffin, president, National Geographic Magazine Group
RELATED: FOLIO:'s Ellies Liveblog
NEW YORK—There are some years when the National Magazine Awards can be accused of being too New York-centric.
Not this year.
National Geographic, the 120-year-old Washington, D.C.-based title, captured three, including an Ellie for general excellence for magazines with a circulation of more than two million, during the American Society of Magazine Editors 43rd annual ceremony held here.
The New Yorker and New York magazine, which had a combined 21 nominations, won just two. New York, which swept the awards show last year, winning five, was awarded one, in the "leisure interests" category. It had received nine nominations. The New Yorker, a perennial favorite, won just one of the 12 categories in which it was nominated.
New Yorker editor David Remnick joked he forgot what "I'm supposed to do" when he reached the podium to accept the magazine's lone award (general excellence for magazines between one million and two million circulation).
New Blood
For 28 awards, there were 25 different winners. Vanity Fair, the only other magazine to win more than one, won two.
The lack of wins by the New Yorker and New York allowed some of the industry's lesser known faces to grace the Jazz @ Lincoln Center stage.
New Letters, a literary quarterly, won the essay Ellie (beating a field that included the New Yorker) for a piece entitled "I Am Joe's Prostate." Backpacker, a magazine that its former publisher, Rodale, sold to Active Interest Media last year, won the Ellie for general excellence, 250,000-500,000 circulation, beating out the heavily-favored New York magazine.
Bicycling, Atlanta and Runner's World each won their first NMA.
Condé Nast's $100 million-plus business magazine launch, Portfolio, won for best magazine section in its first year of publication, beating Esquire and Wired in doing so.
'Nails Never Fails'
The evening was just as notable for its smorgasbord of presenters, including Anderson Cooper, New York City Police Commissioner Ray Kelly, Tina Brown, Four Seasons restaurateur Julian Niccolini and the cast of NBC's 30 Rock.
Lenny Dykstra, former New York Mets centerfielder-turned-stock-picking-guru-turned-publisher, presented a pair of awards, remarking: "Let's get the biggest question out of the way: 'What the hell is Lenny Dykstra doing here? Sure, he's one of baseball's greatest success stories …'" (Dykstra, who last month launched the Players Club, a magazine for professional athletes, is already embroiled in a legal battle with Doubledown Media—with whom he partnered to launch the magazine; both parties filed federal lawsuits last week.)
National Geographic editor Chris Johns, in accepting the general excellence award, said: "I'm stunned, but pleasantly stunned."
Meet the Author
---