Daily deal and couponing sites are on the rise, with Groupon and Living Social being two of the most prominent. Nielsen recently released a study that examined the differences between the two sites' audiences. The metrics provide some insight into the age, affluence and product verticals daily deal seekers are interested in.
According to the study, Living Social users are wealthier than Groupon users. Living Social users are 49 percent more likely than the average American Web surfer to make $150,000 or more compared to a 30 percent average for Groupon.
Groupon has more older users (57 percent are ages 35-64, compared to Living Social's 51 percent) and a high concentration of users in the Northeast. Living Social has more younger users (33 percent are 21-34, compared to Groupon's 25 percent)-and its visitors are concentrated in the South and Pacific regions.
Visitors to both sites are about two-thirds female.
Importantly, especially for deal providers participating in the sites, the study reveals the product areas that are most sought after by bargain hunters. Gardening topped the list with 46.5 percent of visitors interested in the category. About a third of visitors are also looking for home repair, religious and landscaping deals.
Groupon and Living Social both allow deal sharing with social networking friends and incentivize that sharing with free deals and credits. The study notes that coupon site visitors are 12 percent more likely than the average Internet user to have multiple social network profiles and 33 percent more likely to be actively posting to those platforms.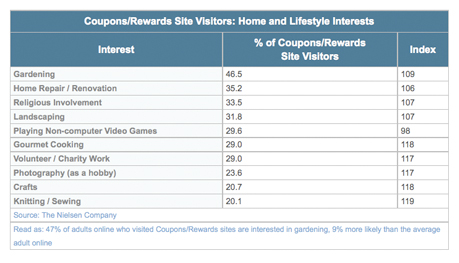 Meanwhile, Facebook has entered the market with the launch of its Deals on Facebook feature. The new deal platform has been rolled out in five markets so far: Atlanta, Austin, Dallas, San Deigo and San Francisco. It's Facebook's second such program-the first being a more localized "check-in" style deal feature that presents users with on-the-spot deals when they check into a business via their mobile device.
The new Deals on Facebook program offers more of an aggregation service in that it presents deals in a user's region via email notifications and a homepage "Deals" tab. Uses are also notified of deals-and here's Facebook's built-in strength-as their friends buy or like deals.