Few magazine apps in the App Store don't have at least one reviewer clamoring for a subscription package that bundles print and app, and now a new study from GfK MRI suggests that rather than abandoning old media, tablet and e-reader users might still be print's best audience.
According to the study, tablet owners are 66 percent more likely than the average U.S. adult to be heavy users of printed versions of magazines, while e-reader owners are 23 percent more likely to be heavy print users.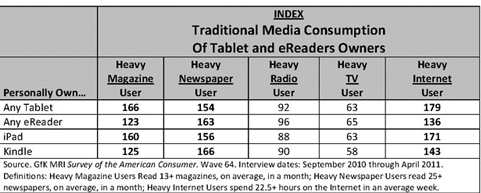 The study also says men are more likely to own tablets while women are more likely to own e-readers (although I still dig my Kindle and I'll arm-wrestle anyone at GfK MRI or Yudu who makes fun of me).

While e-reader owners are primarily reading books on their devices (87 percent) with magazines (15 percent) barely edging out newspapers (14 percent), tablet owners are more evenly split, with 57 percent having read a book on the device within the last six months compared to 39 percent who read a magazine and 41 percent who read a newspaper.

So how about you, readers? Are you double-fisting the Wall Street Journal in one hand and the Financial Times app in the other on the way to work? Or have you said sayonara to any print magazines in favor of the digital version exclusively?