Study: Programmatic Strategies Adopted by 85 Percent of Advertisers and 72 Percent of Publishers

Aggressive continued growth expected into 2015.
Programmatic buying is exploding according to a recent IAB and Winterberry Group study. However, the study also shows that some hurdles are slowing adoption rates.
The study probed 250 executive-level marketers across the digital industry and the results show that 85 percent of advertisers and 72 percent of publishers are presently using programmatic buying strategies. Moreover, the total is expected to rise to 91 percent and 83 percent respectively, which denotes a clear narrative that customized advertising is a principal strategy for advertisers and publishers moving forward.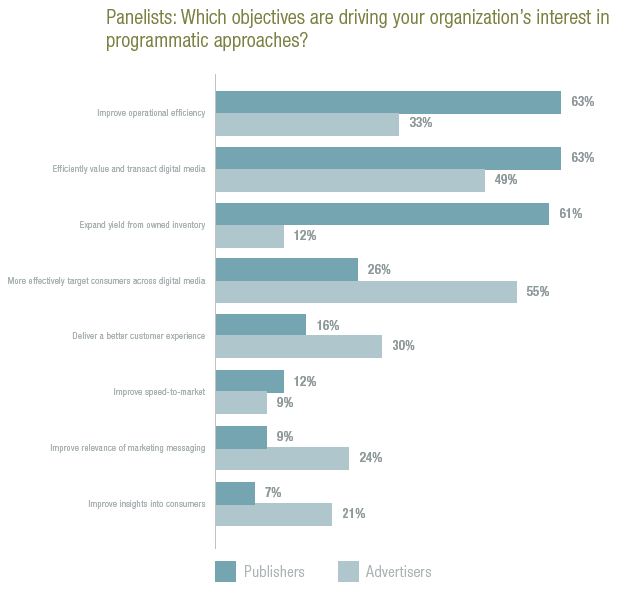 The study reveals interesting but contrasting motives for programmatic adoption. For advertisers, 55 percent suggest that the inherent value is in delivering targeted ads that consumers can engage with. Sixty-three percent of publishers, on the other hand, believe the real value with programmatic is in creating more efficient transactions.
The biggest problem with programmatic buying strategies, according to one-third of advertiser respondents, is brand safety. In other words, brands are worried about where their ads are showing up and are seeking more control in that regard.
The study's whitepaper also identified five emerging trends that both publishers and advertisers should consider:
• Due to mobile proliferation, browser cookies are becoming less important for collecting data and segmenting audiences.

• Programmatic is adaptable to all media types—paid, owned and earned. Because of that, demand for actionable customer profiles will continue to grow.

• Data will continue to grow its strategic value.

• The digital marketing supply chain will need to restructure in order to optimize emerging programmatic technologies.

• Expect fewer, but more comprehensive third-party solution platforms in programmatic buying.
Meet the Author
---