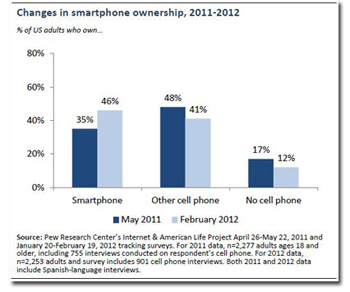 About 46 percent of American adult cell phone users now own smartphones, according to the Pew Research Center, information that could be useful to publishers and their mobile strategies. Smartphone usage increased 11 percent from May 2011 to February 2012. Seemingly, smartphone usage is on the rise, and similar findings were echoed in comScore's "2012 Mobile Future in Focus" report, which suggests that by the close of 2012, smartphones will be in the hands of the majority of all mobile phone users.
Pew's study shows that smartphone ownership increased over a broad spectrum of demographics, and devices that were once recognized as business tools are now quite clearly consumer-oriented. Smartphone ownership in the 45-54 age range increased 16 percent, from 28 percent to 44 percent, and there was an aggregate increase of 14 percent in users age 18-44, from 50.3 percent to 64 percent. These upticks indicate that more than half of the generally targeted U.S. consumer market demographic (individuals age 18-49) owns a smartphone. According to comScore, smartphone owners will exceed 100 million in 2012.
The General Board of Discipleship (GBOD), which produces six magazine brands to reach audiences from 13 years of age and up, has been proactive in meeting audience demand for digital access. At the beginning of the year, GBOD's youth magazine Devozine introduced a Web-based mobile platform for its young audience. Stacy Gaither, maketing manager for GBOD, describes this audience as "tech trendsetters," and reports that, so far, the mobile-friendly website has been a popular add-on for the print publication's audience.
"We are now able to reach an audience that we never could have reached before," Gaither says. "We have to give them what they want or they will look for it elsewhere," she says, adding that publishers must "keep up with them [the audience], or you are no longer useful."
GBOD also launched an interactive app for its largest adult-targeted publication The Upper Room Daily Devotional, and is in the process of developing monetized e-magazines for that brand, as well as Alive Now. Both are scheduled to launch in March. GBOD does not view digital products as replacements for print, but instead as an enhancement. Gaither says that for the time being, print will go on, and GBOD's plan is "not an either-or, it's a both."