In May, the Center for Exhibition Industry Research (CEIR) released the second part of its Attendee Retention Insights survey. One of the main findings from that report was that nine out of ten event attendees place value on face-to-face interactions with vendors and the ability to ask questions on the spot.
CEIR has now released its fourth report, which investigates the impact of special activities and amenities on attendee retention, and findings reinforce the importance of face-to-face interactions.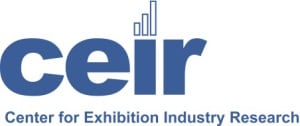 The study compared how often attendees use special activities and the value they place on each to the extent to which organizers' offer it, as well as organizers' beliefs regarding how much said event or amenity enhances attendee experience.
Interestingly, organizers largely understand which activities attendees use the most, but then overestimate the importance of these activities in enhancing attendee experience.
► See also: Tradeshow ROI Tips From "Lead-Gen Jenn"
The most popular activity for users was exhibitor invitations to special after-hours events, with 86 percent of attendees saying they used such invitations. This is just one instance highlighting the importance of face-to-face interactions among attendees when it comes to special events and activities. Nearly all organizers surveyed provided this activity, at 94 percent.
Despite the large percentage of attendees going to such events, only 70 percent said it enhanced their experience. In comparison, 93 percent of organizers believed it would enhance attendee experience.
This trend continued with regards to casual special events open to all attendees, peer-to-peer special events, formal special events open to all attendees, and mentoring opportunities. In fact, across the board, there was at least a 10 percent difference between the number of attendees who said the activities enhanced their experience and organizers' perception of enhancement.
For example, only 65 percent of participants found that casual special events open to all attendees enhanced their experience, yet 87 percent of organizers thought it would.
One of the most interesting misalignments between attendees' participation and valuation and organizers' beliefs appeared with regards to excursions in the city.
Only 66 percent of organizers provided this activity, but 81 percent of attendees participated when it was offered. This corresponds to the fact that only 37 percent of organizers believed it enhanced attendee experience, while 51 percent of attendees felt it did. The results imply that more organizers should provide excursions in the city.
Excursions in the city attain even more importance when it comes to coordinators, millennials, and women, the study finds, at 68 percent, 67 percent, and 63 percent, respectively.
Organizers are also mostly spot-on when it comes to providing free Wi-Fi, open seating areas, mobile device charging stations, and Internet cafés.
However, organizers underestimate the importance of obtaining badges in advance. Only 60 percent of organizers thought it enhanced attendee experience, but 89 percent of participants said they valued it. As such, it seems clear that one of the easiest ways to increase attendee retention is by proposing this amenity.
The study's findings also imply that organizers could enhance attendee experience by providing a service that ships attendee materials to their offices, which 63 percent of attendees said enhanced their experience. Only 38 percent of organizers shared that sentiment. It becomes even more valuable with regards to coordinators and women, with 74 percent and 76 percent rating it as valuable, respectively.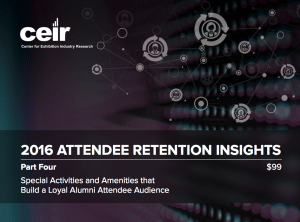 CEIR also found that organizers should focus more on organizational groups at events. Sixty-seven percent of attendees travel with colleagues—on average, seven staff members from an organization attend exhibitions.
Since a majority of participants attend events with colleagues, CEIR also surveyed attendees about their groups' organizational goals and activities.
Keeping up with current industry trends was the most common organizational goal among groups, at 72 percent. Exposure to the latest technology was second-most popular, at 58 percent, with new product or service development coming in third at 52 percent. Team building was the least popular organizational goal/activity, at 21 percent.
Given that attendees traveling with colleagues are likely to make up a large portion of overall attendees, the study implies that organizers can grow attendee retention by offering exclusive amenities to groups.
Fifty-five percent of attendees who traveled with a group said event organizers didn't provide amenities for their group's use. Only 37 percent said organizers offered one or more group amenities.
Among the exclusive amenities provided, the most popular was appointment setting with exhibitors, at 21 percent, followed by free Wi-Fi at meetings, at 19 percent, and then providing a meeting space for organizations, at 11 percent.
These numbers reinforce the general importance of Wi-Fi at exhibitions in building loyal alumni. In fact, organizers believe its effectiveness in driving repeat attendance is 75 percent or higher. It seems that giving groups a meeting space might also drive attendee retention, as 78 percent of organizers said they do so or will soon do so, and its effectiveness rating is also 75 percent or higher.