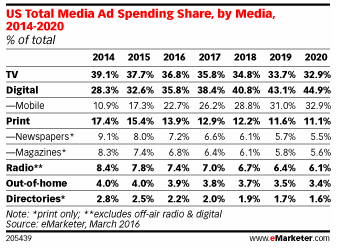 Mobile ad spending in the U.S. is projected to reach $43.6 billion this year, which is a 38 percent increase over last year. This, according to a recent eMarketer report that also suggests digital ad spend will overtake TV's majority share in 2017.
The message: Mobile-first isn't just industry jargon anymore.
Mobile now accounts for more than half of the total digital ad spend—nearly two-thirds, in fact (63.4 percent). What's more, it will continue to be a growth catalyst, and by 2020 will account for about 70 percent of the total spend within digital, and 32.9 percent of the overall share—the same as TV.
The report has less than favorable findings for print magazines. According to projections, magazines will account for 6.8 percent of the total share this year, and only 5.6 percent by 2020. Of course, digital will help offset some of this, but the players who will benefit most are few. Ad networks like Facebook, Google, Adblade and about a dozen others are certain to generate the most digital revenue, but there is presumably still meat on the bone for publishers with scale. Likewise, publishers who max out on every platform—print, digital (including mobile and video), social and events—and have brand collateral to leverage licensing opportunities, will presumably thrive.
It's worth mentioning that the same report just two years ago projected digital's share would expand at a slower rate and wouldn't pass TV until 2018. It also estimated mobile ad spend would total $26.59 billion in 2015, which is $5 billion less than the $31.59 billion actually spent last year. So it's not unreasonable to wonder how these figures will change as mobile media continues to proliferate and attract advertiser interest over the next four years.