Studies in Magazine Marketing

Three case studies showcase the new multimedia approach to magazine marketing.
Edit, sales and circulation may be what springs to mind when talking about the magazine industry but the magazine marketing department is playing a more vital role than ever. Just like their peers in other publishing disciplines, marketers are being asked to do more with fewer resources (in terms of both manpower and budgets).
But today's magazine marketers need to be expert not only at leveraging the print product but developing multimedia campaigns for emerging products such as events, online and books. Below, Folio: offers three case studies from three very different publishers on how they were able to successfully market not only individual products but their overall brands.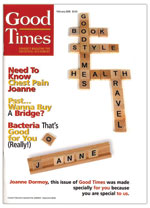 Boost Renewal? Try Some Personalization
Company: Good Times
Program: Annual subscription renewals.
Targeting and personalization may be all the rage online but they aren't limited to just e-mail offers. Good Times, a Canadian magazine for successful retirement, decided to experiment with a more personal approach in order to boost renewal rates among its readers.
To demonstrate to readers that Good Times really is tailored to them, the marketing department teamed with printer Transcontinental Direct and relationship marketing agency Varibase to develop three different offers against a control package that included a personalized letter, an offer of 11 issues for $17.95 and a Good Times club membership card. The personalized offers featured covers with a Scrabble visual spelling out the names of individual readers.
"We wanted to show through this campaign that each issue of Good Times is unique because every one of our readers is unique," says group marketing director Martine Aubin. The publisher randomly divided a target file of 10,000 customers between the three different offers. Varibase handled the design and programming of the personalized covers while Transcontinental handled all the variable digital printing, assembly and postal preparation.
Based on an indicator of 100 for the control group, the control batch (general communication with the $17.95 renewal offer) yielded 100; the second batch (a personalized cover with the $17.95 renewal offer) yielded 251 and the third batch (personalized cover with $19.95 renewal offer and $2 coupon) yielded 389. "Subscribers responded best to a personalized approach that gave them a perceived savings off the renewal rate," says Aubin, who adds that mass customization using color variable printing was the key to the success of the offer.
"Managing your database properly and having a clean database is essential," says Aubin. "The last thing you want to do is misspell a subscriber's name on the cover. The process is more efficient if your data is clean. We will be doing more personalization strategies."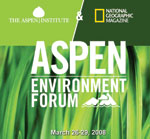 Green Connections
Company: National Geographic
Program: Aspen Environmental Forum
Live events are a boon for National Geographic, offering a highly profitable revenue stream that can be packaged with its core print and online products, as well as a showcase for expanding the brand to a new audience (last year, National Geographic won FOLIO:'s Grand Fame Award, recognizing the best in live publishing events, for its Experience Parks & Conservation effort in New York City's Grand Central Terminal).
Now, National Geographic is developing a new event franchise called the Aspen Environmental Forum. Rather than position the event as a mass-brand builder like Experience Parks & Conservation, the Aspen Environmental Forum is designed to establish National Geographic as a leader among the businesses and thought-leaders at the forefront of the environmental movement.
National Geographic teamed with The Aspen Institute to recruit more than 100 speakers, including corporate executives, top scientists, film makers, media representatives and local government officials. Executive editors Tim Appenzeller and Dennis Dimick planned the content.
The forum, hosted in March, drew a sold-out audience of 350 attendees, including educators, professors, architects and designers, paying $1,700 a head. "It was expensive but we wanted it to be accessible," says vice president and publisher Claudia Malley. "We didn't want it to feel like it was exclusive to one group."
Point of Differentiation
National Geographic used its photography to differentiate the event and establish a more immediate connection with the topics. Each day, photographers presented a different view of the environment with photos of climate change, conservation efforts and even soil, which came from the cover story of the magazine's September issue. "The photographers give another context to the discussion and they really humanized the event," says Malley. "We sat back and thought, what can we bring that's different? We didn't want this to be one-sided. We weren't going to do a green consumer festival and we weren't going to do a business forum. We have to touch all the disciplines we offer as a magazine."
Making It Pay
National Geographic sold eight sponsorships for the event at $170,000 apiece. General Motors displayed one of its new concept cars and provided a fleet of hybrids which shuttled speakers. Another sponsor produced a film with National Geographic about the environment of Patagonia. Sponsors could film sessions and post the video at their own sites. While General Motors expanded its sponsorship with advertising in the magazine, print ads weren't necessary for participation in the event, Malley says.
National Geographic promoted the event with house ads and direct mail targeting subscribers living within 250 to 300 miles of Aspen. Sponsors could film the sessions and put the videos up on their own Web sites, provided they attributed the content to National Geographic.
A second Environmental Forum is scheduled for March 2009 and National Geographic is considering a series of regional forums. "For us, this helped communicate our leadership position in the environment and put the editors and photographers on center stage in front of an important constituent group," says Malley. "From a business perspective, this a clear example of something we can expand from."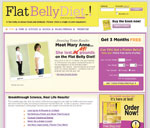 Web Workout
Company: Rodale
Program: Flat Belly Diet
Rodale's Prevention brand is a success both in print and online, and the brand has proven to be a credible launch platform for ancillary products. The Flat Belly Diet book has been one of the biggest recent successes for Rodale, and part of its success is attributable to the marketing prowess of Prevention.
Rodale developed an online-only diet plan to complement the book, through which consumers can set up meal plans, as well as purchase other ancillary products, such as fitness DVDs. "Prevention itself is such a credible brand name and Rodale is unique in that it has a tremendous direct marketing business," says Linda Andersen, vice president of Rodale Direct. "We thought, what other ancillary products could help our readers?"
Tying The Elements Together
Ultimately, Rodale had to integrate all these activities across different departments, including editorial, public relations, the IT department (to get microsites up and ready) and the direct marketing group. "It was really a 360 degree effort," says Andersen. Online channels were particularly important. Rodale placed a link for the Flat Belly Diet in the prevention.com navigation bar which linked to a soft landing page touting the book and its ancillaries.
For all television appearances touting the book, Rodale bolstered its paid search activity, buying banners on RachelRayShow.com and display ads on Good Morning America to optimize the site. Even a rerun of the Flat Belly Diet segment on Rachel Ray drove massive traffic to the site. "We sold thousands of books in a couple of days because of that," says Andersen.
Over the summer, the Flat Belly Diet was number one on Google trends, outpacing even the term "Olympics." On Yahoo, it consistently ranked among the top 10 searches. Well over 3 million unique visitors went to the Flat Belly site and on average generated 6.7 page views apiece. "This is a site more about commerce than anything else, so to get that many page views—that's pretty impressive," says Andersen.
The biggest problem hasn't been the marketing but meeting the demand. "We didn't expect the success immediately," says Andersen. "We did have slow delivery, inventory issue the first couple weeks, the DVDs came in a couple months after the book launched."
Meet the Author
---