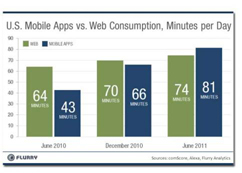 While it is recognized that digital mediums are currently driving content consumption, the points of entry for where readers are accessing material-applications or Web browsers-are still up in the air. But recent analyses are suggesting it's worth noting whether readers are spending more time with their apps or with browsers in the mobile environment.
Flurry, an analytics company for mobile applications, finds that individuals are spending more time-about seven more minutes-per day with mobile apps than on the Web for an average of 81 minutes and 74 minutes, respectively (see graph below). The group also contends that use of mobile apps has surpassed desktop, notebook and mobile Web consumption by about nine percent.
The amount of time users spend with mobile apps increased by 91 percent from June 2010 to 2011, according to Flurry. "This growth has come primarily from more sessions per user, per day rather than a large growth in session lengths," the Flurry study finds.
While it seems users are spending more time with mobile apps, the Online Publishers Association finds that only 12 percent of the U.S. Internet user population own tablet devices and that the average user downloads just 20 apps. About 79 percent of app downloaders have paid for apps in the last 12 months, though only 26 percent of all apps downloaded are paid.
About 66 percent of responding tablet users, in which 2,482 individuals aged 8-64 were polled online (though it is hard to imagine how many 8-year-olds have a tablet), say they prefer reading on a tablet device than a computer. The survey also finds that 65 percent of tablet users prefer reading on a tablet to a mobile phone. Only about 31 percent of tablet users, according to OPA, are reading magazines on these devices and about 20 percent of tablet users interact with magazine apps regularly.
With such a small percentage of individuals owning tablets and accessing magazine apps, Marie Claire is well positioned to take advantage of its Web site, which has been modified for the iPad, according to Adweek.
Though the Hearst title still has a home in Apple's App Store, the site, when accessed through an iPad browser, is now more user friendly. The site allows Marie Claire to collect data on its users, a luxury Apple does not afford to the publishers who work with the App Store.
As Adweek points out, in the first quarter of 2011 Forrester Research found that 45 percent of tablet users are using a browser for about the same amount of time as they use apps and about 39 percent use the browser more than the app.
The Financial Times is taking a similar approach to that of Marie Claire and also launched a Web browsing application designed for tablets, which may replace it's iTunes application.
"In many ways, it'll be much easier to find the Web app than native apps in the App Store," Rob Grimshaw, managing director of the Financial Time's Web site, told Adweek. "Apps don't have to be something that exists in the App Store. As a publisher, you can control your own channel to market. If you know you have another way to reach your customers, it puts you in a stronger position when it comes to platform providers."