TheStreet Launches Major Video Push

Video revenue up 62 percent thanks to new workflows.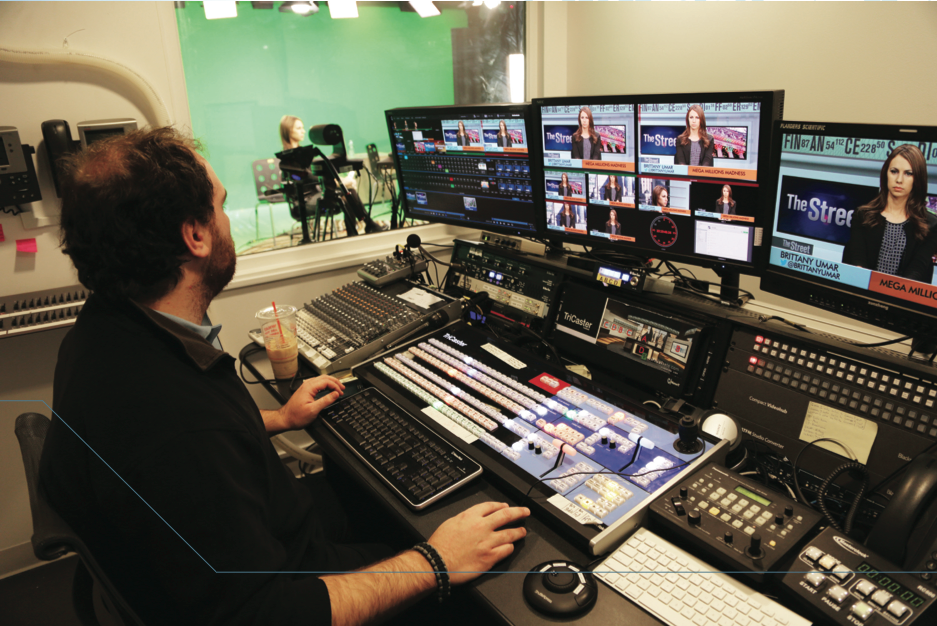 Building a video unit was among the first goals for CEO Elisabeth DeMarse when she took the reins at TheStreet in March 2012.
The company's revenues had traditionally been split 80-20 between subscriptions and advertising, and video—with its high CPMs—would be part of the plan to rebalance that ratio. Like many other markets, the financial news segment was also still struggling with how to present its product on the platform.
"Video is a point of ongoing debate and conversation in the digital publishing world, and I feel that it
is the last bastion of high CPMs," DeMarse told FOLIO: last year.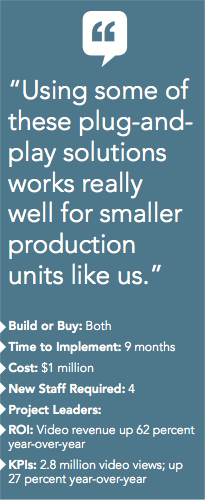 THE PROCESS
Video production was already under way when she arrived, but inefficient workflows were standing in the way of profitability. Post-production lag times ran anywhere from 9 hours to a few days, says Ruben Ramirez, TheStreet's head of video, who was brought on to manage the division early last year.
"When you're working in that environment, there's really no way to ramp up production and increase inventory," he says. "The model we were going for couldn't work."
DeMarse brought in a two-person consultancy team to start rebuilding TheStreet's video infrastructure almost immediately after her appointment. A state-of-the-art studio and control room were ready by the end of 2012.
At the center of the new workflow was a live production unit, the TriCaster 8000, that would allow a single producer in the control room to adjust and switch cameras, manage audio feeds, insert graphic overlays and perform other production tasks in real time—tasks that had made post-production a nightmare under the old system. What had taken days now took less than 10 minutes.
Hosting was also simplified, with an eye toward bigger scale. Moving to an off-the-shelf Kaltura video player and using Amazon cloud storage meant the team could focus on production. Implementation was simple from a technical perspective and there was no need for costly servers.
Live streaming capabilities—for FED and BLS announcements, presidential addresses on the economy, and the like—were also introduced with the same standards in mind.
"We're still able to do everything we want to with video by using these products that were already out in the market and it's easy for us to scale at not much additional cost," Ramirez says. "If you don't have a huge tech department that can be completely focused on creating
a solution that's customized and built in-house, using some of these plug-and-play solutions works really well for smaller production units like us."
With the right technology and new workflows in place, at the start TheStreet was able to produce about 30 pieces of video content each day.
Distribution has also been critical in developing an audience. The company has syndication deals in place with partners like Yahoo, Google, AOL and about 300 newspaper sites across the country. Those partnerships bring in about two-thirds of TheStreet's total audience, Ramirez says, and establishing the sharing networks is as simple as setting up an RSS feed.
THE RESULTS
All together, video views have gone from 2.2 million to 2.8 million since last summer—a 27-percent increase. Monetization has risen even further, with video revenue up 62 percent over the same time frame. Ramirez didn't share raw earnings figures, but says the video unit is comfortably supporting its own operations at this point.
Their competitive set is getting better at video production, Ramirez says, but TheStreet is continuing to invest in the platform through the additions of technology and human capital. In addition to Ramirez, they've added two technical personnel and an SEO specialist, and with a recently completed third studio and second control room, they're able to churn out up to 60 pieces of content per day.
Ramirez cautions that continued investment is necessary for any successful video operation. It can't live as an ancillary product.
"Elisabeth came in with a plan of really wanting to make video a centerpiece of the content TheStreet creates," he says. "If you want to be successful with video, it always has to be at the center of what you're doing
if you're a media company. If it lives off by itself and doesn't have the attention of everyone in senior management, it's not going to be successful."
Meet the Author
---