'Strategic Repositioning' of Playboy Coming

CEO appoints president, says he is 'absolutely committed to print.'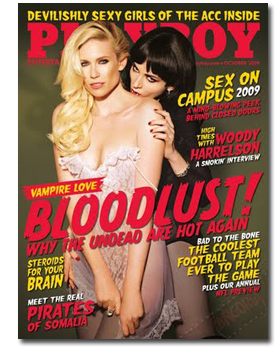 SEE ALSO: What to Expect of a Playboy Repositioning
Recently-appointed Playboy Enterprises CEO Scott Flanders said he is planning to announce a "strategic repositioning" of the company before the end of the year. As part of that plan, he promoted Alex L. Vaickus from executive vice president and president of global licensing to the newly-created position of president, overseeing all of the company's business operations.
"We are in the process of reviewing all of our go-to market strategies," Flanders told FOLIO: Tuesday. "We see opportunities for growth that will only be brought about with change."
Flanders declined to comment on the specifics of the repositioning other than to say he expects to make a separate announcement sometime this year.
"Having a president to manage day-to-day operations will go a long way in enhancing efficiencies and avoiding duplication of efforts," Flanders said of Vaickus' appointment. "I'm confident he can help unify our often disparate operating units. We're in every segment of media, internationally. The complexity is significant."
Vaickus will continue to oversee Playboy's licensing business—what Flanders has described as the company's fastest-growing segment.
Playboy also named Playboy Digital executive vice president Scott G. Stephen executive vice president of the recently combined print/digital group. Reporting to Vaickus, Stephen's responsibilities will expand to print publications, the company said.
"Absolutely Committed" to Print
The print edition of Playboy, the company's flagship product, has had a difficult 2009. Of the more than 30 big-circ. consumer magazines—including AARP, Reader's Digest, Maxim and Newsweek—only Playboy fell short of fulfilling its rate base through the first half of the year, delivering a total paid and verified circ. of 2,453,266, compared to its 2.6 million rate base, according to ABC's most recent FAS-FAX report.
In terms of advertising pages, the magazine saw a decline of 30.2 percent compared to the same period last year, according to PIB figures.
Despite those losses, Flanders said the print edition of the magazine will survive the company's forthcoming strategic repositioning. "I am absolutely committed 100 percent to keeping Playboy in print," he said. "The magazine is the cornerstone of what we do, it's what the brand was built on.
"That doesn't mean we won't continue to expand in other segments of the business that might grow faster," Flanders added, "but print isn't going anywhere."
Meet the Author
---