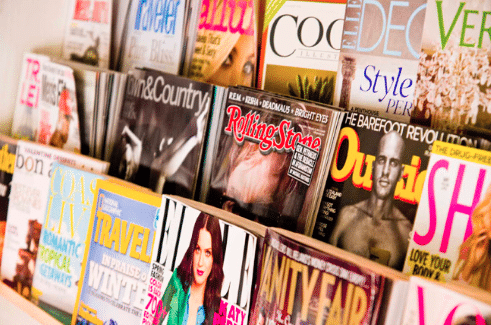 The magazine industry collectives may not want us to count ad pages anymore (or even ask about them), but surely they're still here. For the last decade, print ad budgets seemed like an unlocked vault from which digital budgets could steal.
As we've covered every new digital channel—social, video, mobile and even rich media (remember that?), we routinely asked media buyers where they expected to reallocate funds from their zero-sum budgets. Depressingly, "print" was the first and almost gleeful reply from a new digerati who saw bloated page rates as the soft underbelly of ad budgets.
Alas, they were right.
Regardless, advertisers and agencies do retain faith in print as a medium—and especially in the print media brands that have built sometimes generations of trust with their readers that go beyond the page. We asked a couple buyers why they're still here. In other words, why do they still believe in magazines?
Beyond Scale
"There are certain categories where print investment is still quite strong and delivering great programs and results for our clients," Ginger Taylor White, EVP, Managing Director, Publishing Investment at Amplifi tells Folio:. "Specifically, CPG, food, pharma and auto brands continue to spend in print and are gaining positive ROIs."
"We don't consider print to be a reach play—we view it as an ideal opportunity to engage in contextually relevant content," says Vanessa Watts, EVP of Media at Laughlin Constable. "For our clients, it's all about context. "One of our healthcare clients is always involved in a local Chicago magazine 'Top Doctors' issue. For a different client, who is focused on brides and grooms, bridal magazines are essential to reach this consumer."
Similarly, White is encouraged by publishers who are launching new titles like The Pioneer Woman and The Magnolia Journal that are designed to reach audiences across channels. Each have shown that a new media brand can take root on non-print media like a blog or TV series and create new experiences in print.
The Analog Indulgence
In fact, it's that longing for a less cluttered and more focused alternative to fragmented media that could be print's best friend. In some sense, White indicates that magazines themselves and their reading experience are the counterpoint or cure for digital.
"Magazines are still that lean back, tangible indulgence," she says. "For some it is aspirational and for others it is that time to take a deep dive into something they are passionate about. Regardless of what a magazine means to a reader, it's time that a person takes for themselves."
And it's in that special mode of consumption that media buyers are still able to find a quality other media don't quite provide. It all comes down to engagement, Watts says. "Readers are passionate about the magazine brands they choose to spend time with. Whether in print or digital formats—or even experiential opportunities— that passion comes through and brands can capitalize on having an engaged consumer to message to."
And yet, the reality is that digital has changed expectations in all media. Print is being held accountable for its impact in an environment that calls a two-second impression of half of a banner ad's pixels "viewable." White says that measuring print is now all over the maps. "This is really on a client-by-client basis. Some clients rely on ROI to determine the impact of print, while others rely on MRI reach numbers and Starch data. For some clients we build out programs with specific KPIs and pre-and post-attitudinal studies to gauge success."
Watts adds that this is one place where digital presence is most helpful to print. "With publishers providing more digital solutions—measurement becomes easier and more robust than say—typical Starch reporting. Obviously traditional methods of media mix modeling also help compare the impact of print with other channels."
Exporting Trust Beyond the Page
It almost goes without saying now that the key to print media's survival is not relying on print; or at least not on print alone.
"Diversification is key," says Watts. "Publishers have to think beyond the page and offer opportunities to engage with readers digitally and in person. Think content, video and in person experiences. Consumers want to engage with brands beyond the glossy magazine. Publishers need to develop innovative solutions to do this and bring brands along for the ride."
And it's not just about being everywhere but, for advertisers at least, being a trusted companion on the consumer's journey. "It isn't about buying pages, but rather using the brand to speak to the consumer throughout the purchase funnel/behavioral journey," says White.
And while diversification is critical, this common publishing strategy now more than ever requires editorial discipline applied from the top down.
"Publishers need to remember that they are still selling a brand that consumers trust," She says. "They need to sell the value of aligning with their powerful brand and how they are able to engage with the consumer. Continue to look at the holistic brand and make sure you are talking to the consumers in a consistent editorial voice across all touchpoints."