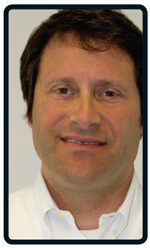 In just two years at Vance, Reiss has increased ad revenues for the Salon Group by double digits and spearheaded efforts beyond print and Web.
In his two-year tenure at Vance, Reiss has increased ad revenues by double digits for the salon group and has lead the group to become the most widely circulated magazines in their marketplace.
When we caught up with Steve Reiss, he was on his way to a salon industry tradeshow—the fourth Sunday in a row he had spent at a tradeshow. "Hair stylist and salon owners traditionally have Sundays and Mondays off," Reiss explains. "So the tradeshows are always on weekends." 
Reiss portioned his Modern Salon audience into "life cycle" segments, with an online community called Beauty School Advisor for people who are thinking about getting into the industry, another community called First Chair, a magazine and Web site devoted to beauty school students and new salon professionals, Modern Salon for professional stylists who own their own small salons, and Salon Today for the owners and managers at busy salons. Each magazine is supported by an online community.
Each of these communities has very different information needs, and each magazine and Web site presents strictly targeted content. "This gives us an advantage over our competitors, all of whom have one community for everyone, and can't segment the audience in ways for advertisers that are very targeted," he continues. "Further, we've found that each of these segments we've identified prefer to get their information in varying ways. For example, even though salon owners don't think of themselves as technical people, we've found a tremendous amount of mobile usage in the industry. So, one of the first things we did was create mobile versions of our Web sites and made the content of our magazines available on apps. "
The Salon Group also offers continuing education for stylists online. Part of Reiss' strategy going forward will be to sell sponsorships of those courses, or allow advertisers to integrate their products in the courses.
VITAL STATS: Modern Salon has an audited circulation of 117,000, Salon Today is distributed to the top 25,000 and the company creates an eight-page "mini mag" of custom content for Beauty Systems Group, mailed 1 million-plus salon and spa professionals.