Steve Morris

EVP | Advanstar Life Sciences | Advanstar Communications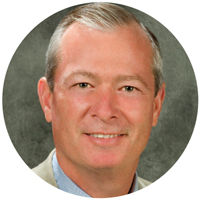 One of the few publishers to buck the trend and launch print this year—48-page Optometry Times in March of 2009—EVP Steve Morris is quick to downplay the role of print.
"The reality is that we aren't really excited about opening more print publications in this environment. Our strategy has clearly moved to digital with the launch of [online hub] modernmedicine.com." The decision to launch was mostly due to its anticipated profitable gains "in print alone" and an "acceleration of event and online investments from our clients."
Morris and his team have done what so many have not in the current climate; taken a step back and listened to the market demands of its niche audience. After joining Advanstar in 2004 as a vice president of market development, he successfully reorganized this group into a more customer-focused and efficient sales organization, which led to expanded growth opportunities and increased revenue before moving to his current group in 2005.
In the ophthalmology market, Advanstar sees 50 percent of its revenue from print and 50 percent from digital and events. Due to the similarity of its eye markets, Optometry Times called on the readership of Ophthalmology Times for a 33,000-controlled circ magazine.
Since joining the company in 2004, Morris' team has spearheaded major initiatives including the launch of modernmedicine.com, a portal and source for physicians, as well as provide a central content structure.
An $8 million-plus franchise in 2008, Morris recognizes the importance of appealing to this total "eye" category through its preferred medium. "It was easy to make the decision to tap into optometry in print, the same as we are doing in events and digital. The optometry market is 33 percent larger in print than ophthalmology," he says. "We are looking to grow that [$8 million] total over 15 percent this year in the face of a challenging market with this launch as a critical element of differentiation."
VITAL STATS: Advanstar is looking to grow its $8 million eye franchise over 15 percent in 2009.
Meet the Author
---