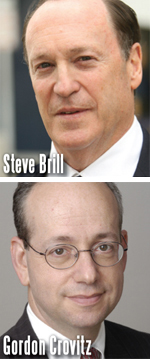 Their Journalism Online is trying to restore the ability of online media companies to charge for their content.
The indefatigable Steve Brill recently explained why he set up Journalism Online, a new service designed to allow Web users to buy content from multiple publishers using a single standardized payment engine. "About eight or nine years ago, my wife and I endowed a program at Yale to get young people into journalism," Brill says. "That involves me doing some teaching and about two years ago, a woman called me and said, 'Mr. Brill, what are you doing to my daughter?' Her point was that I was getting her daughter into a dead-end profession. I thought about that for a year."
What emerged is Journalism Online, a partnership of Brill, former Wall Street Journal publisher Gordon Crovitz and Leo Hindery, a manager of a successful media investment fund, and former newspaper publisher. The premise is this: Media companies can reclaim their traditional business model by engaging some percentage of their total users on a for-pay basis. Brill calls the mechanism for engaging these users a meter. You could set the meter to ask people to pay if they've visited your site 10 or more times per week, or 50 or more, or whatever number you choose.
"What we are saying is that for the 10 percent of your most avid readers—once you identify them—you should ask them to pay something," Brill says.
Magazines in particular have an opportunity here, Brill says. "You're back to the same old challenge that editors have had forever, which is how to make something so interesting that readers will be willing to spend time with it, and not only that, pay for it."
Journalism Online has more than 1,300 affiliates signed up, and the first testing of the e-commerce engine on affiliate sites was scheduled to start in March.
VITAL STATS: Brill's model is intended to engage 10 percent or so of any content site's users and get them to pay. Journalism Online has more than 1,300 affiliates so far. Users would be able to access any of those sites by using one password.