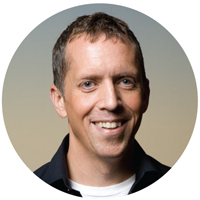 In the swirl of magazine "Tweeting" and "Facebooking," there are some that do social media better than others. Stephen Saunders, co-founder, president and CEO of online startup Light Reading and later Internet Evolution, is one of the few with a successful strategy.
Saunders founded Light Reading in 2000, an online source for technology and financial analysis of the communications industry, and sold to UBM in 2005 for $33 million. He then took a six month break only to hit the ground running with Internet Evolution, a macrosite for Internet news, analysis and opinion.
What makes Saunders' models different from other online media networks is that Light Reading and Internet Evolution monetize their audience with a content-driven, integrated publishing model. With Internet Evolution, he "wanted to take what was happening with social networking technology and apply to the b-to-b space. Really, it's unusual for a single sponsor [IBM] site to get that much notice. My hope is that this model with be used as a template for other publishers."
Unlike a typical social network, a b-to-b social network requires publishers to rethink what a social network should be, explains Saunders. Content needs to be professionally produced—and paid for—to get user discussion underway. No more are the days of free, user generated content, he says. In the case of Internet Evolution, it was an investment. "Over the year, we put close to 700 blogs up on the site, generating 20,000 messages," he adds. Unlike many social networking models struggling to monetize, Saunders says that, "At no point was any decision [with regards to Internet Evolution] speculative. There is always a clear justification for UBM."
Saunders, who is now working as a consultant (or insultant, as he refers to himself), says that Internet Evolution will roll out digital streaming this May, and is working to make IBM's non-mobile materials mobile, "basically becoming a service provider."
VITAL STATS: Light Reading was sold to UBM in 2005 for $33 million. Internet Evolution's 700 blogs generate around 20,000 messages.