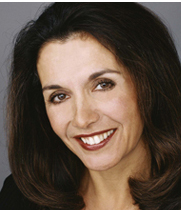 This story first appears on FOLIO: sister publication, minonline.
Late yesterday (March 8), Time Inc. president/CEO Laura Lang dramatically ended her seemingly passive first two months on the job with an announced restructuring that is resulting in the departures of corporate chief marketing officer (since December 2010) Stephanie George (pictured) and executive vp/consumer marketing (since 2009) Steve Sachs. In her staff memo, posted by AdAge.com, Lang wrote that the changes were part of a first phase in "creating a roadmap to capture [Time Inc.'s] potential growth."
Up next is a review by corporate consulting and restructuring specialist Bain & Co., which in its website states that its publicly held clients (Time Inc. parent Time Warner is one) have "historically outperformed the stock market by 4-to-1." (Republican presidential candidate Mitt Romney was a 1980s founder of Bain spinoff Bain Capital, which has generated much controversy during the campaign.)
Both George and Sachs will be leaving Time Inc. at the end of June. George joined the company in May 2001 as InStyle president after 12 years as W/Women's Wear Daily (Fairchild Publications/Condé Nast) publisher/publishing director. Her recognition included being among the 2008 FOLIO: 40.
Sachs' career highlights included president of the Time Inc. Lifestyle Group, which evolved from his being president of 2000 launch Real Simple.
Sachs' departure is described as "personal," with his relocation to Austin, Tex., "to bring him closer to his extended family." He will be helping Lang in her search for his successor.
George's promotion to chief marketing officer coincided with Paul Caine becoming chief revenue officer. (Both moves were made by Lang's Sept. 2010-Feb. 2011 predecessor Jack Griffin.) In the new setup, Caine is assuming some of George's responsibilities and joins a Lang-created "Office of the Chief Executive" with chief financial officer Howard Averill, general counsel Maurice Edelson and corporate editor-in-chief John Huey.