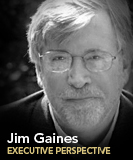 For all the shiny new toys on display at last month's Consumer Electronics Show in Las Vegas—from apps for everything, to TV everywhere, to e-readers that make breakfast—the scene was stolen by the one that wasn't there: Apple's breathlessly anticipated whatchamacallit. By the time you read this, it should have a name, the anticlimax will have passed and we will be on with life, which is a good thing. There is a lot of work to do.
All that speculation was actually never really about the device: It was a symptom of general media upheaval, which has been especially acute in publishing. All the new devices provide hard evidence that was once just a vague possibility and has now become manifest destiny for publishers: the obsolescence of an old model—requiring an elaborately manufactured product to be carried by truckers to newsstands and postal workers to mailboxes—in favor of a more elegant and environmentally-friendlier form of composed communication that is more robust in every way than the one Gutenberg built.
Most Likely To Succeed
We don't know much yet about what digital broadband publications will look like, or even what functions they will serve. The one certainty about early prototypes from Time Inc. and Conde Nast is that they will be quickly dated. Major publishers will very likely be the last to exploit the full potential of broadband multimedia "publications," focused as they must be on their core businesses. Large property holders do not make good revolutionaries.
More likely to succeed as pioneers in this new frontier are future journalism and multimedia stars now in high school or j-school. The next Henry Luce is probably in his bedroom playing World of Warcraft right now.
Second most likely are publishers whose brands are at the brink of extinction already, victims more of recession than systemic change. Nothing focuses the mind quite like the threat of dispossession.
Of these, the titles most likely to succeed at the print-to-digital migration are those with clear editorial missions. In this respect, Gourmet, Vibe and Southern Accents come to mind as last year's most unworthy deaths—and as object lessons for brands on the brink.
All three of these magazines had clear market positioning, loyal readers and remnant, if not robust, ad franchises. Take away the cost of paper, ink and distribution, add the vibrancy of video, audio, information graphics, animation and reader collaboration, and think about the changes that were possible: Southern Accents interiors come to life with virtual tours, Gourmet's recipes are prepared before your eyes, Vibe goes live with the music itself (click to buy), readers enter into a back-and-forth with their ever-more-favorite "magazines" in real time, and advertising in their "pages" is transformed from passive still-life into an engagement with sight, sound and motion. The brand delivers more to readers and to advertisers: What's not to like?
Don't Swap Service for Bells and Whistles
This virtuous cycle only works, however, when the mission for the existing brand does not change, and when multimedia technologies and broadband delivery serve that mission clearly and directly. Before attempting the print-to-digital migration, nothing is more important than understanding precisely what that mission is, at its most basic level, to the publication's most avid customers.
Publications whose mission is less than entirely clear are likely to confuse their readers and themselves as they attempt such a transition. General-interest titles in particular are going to have a tough time pulling it off, and if "cool" or "hip" have any place in the mission, watch out: Nothing says the opposite like geolocational and augmented-reality hijinx undertaken just to be edgy, as we have already seen.
It's a curious irony of this new world that it may just make those publishers lucky enough to have special-interest publications more likely to "stick to their knitting," as one of my favorite bosses used to say. As transformative as publishing technology may become, the new forms of communication it makes possible must still be yoked to the real needs and practical desires of customers. Those who will succeed in deploying that new technology will be those who listen to those needs and desires, not to bells and whistles.
Jim Gaines is the editor-in-chief of multimedia magazine FLYPmedia. Gaines formerly served as managing editor at People, Time and Life magazines and as the corporate editor of Time Inc.