If one word can define the current state of magazine paper, it is likely: uncertainty.
While the rising use of tablets and e-readers is sure to drive down the already weaning demand for print, no one is sure how fast and wide-ranging a complete digital migration will be. And even though a drop in demand might ordinarily mean a drop in price, the paper industry has become increasingly unstable, and such a fall in demand might lead to additional mill consolidation and closures, as well as greater underutilization of machines—all of which, many publishers fear, could lead to dramatic price increases and severe paper shortages.
For many, this is not a question of "if" but "when."
To many people working in production, these fears—at least in the short-term—seem largely overstated. The long term, however, is "quite troublesome, of course," according to one, and isn't ten years away, as is commonly said.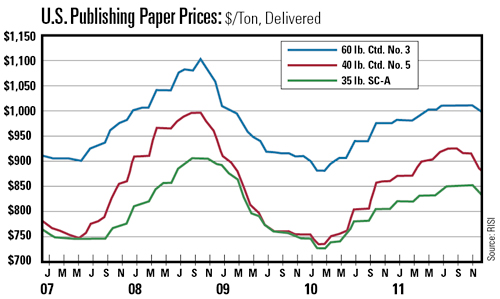 Forest products industry information provider RISI predicts a 20 percent loss of magazine paper usage within five years, a number that will rise to 51 percent within fifteen years. That's a loss of about five percent per year, compared to a 1 percent loss since 2000, says Derek Mahlburg, an economist with RISI's North American graphic paper division. According to Mahlburg and RISI, this is entirely attributable to tablets, which are expected to reach more than 100 million users in North America by 2015, with an average of one tablet per household (the current penetration of laptops) by 2025.
In the short term, RISI expects paper prices to increase reasonably, at two or three percent each year, as paper producers continue to manage mills responsibly and as the inflated cost of chemicals, pulp, energy and labor on the production end offset the decline in demand. In 2011, prices increased by 70 dollars per ton for coated mechanical and freesheet paper, though by the end of the year, those prices dropped again by 30 to 35 dollars per ton. Mahlburg says that a seasonal demand from publishers this spring, as well as expected closures and an ensuing shortage, are likely to drive prices back up by about 25 dollars per ton, leaving prices relatively flat between 2011 and 2012.
A senior production executive at a major publishing company agrees that "paper companies have taken all the key steps to balance supply and demand," as they continue to shut mills to make sure they can keep their machines running. But, the market is much smaller than it was five years ago. "Fewer paper suppliers, fewer machines, and less paper generally creates a potential for volatility," he says, of which there is an increasing risk in 2012.
He points to NewPage Corp.'s emergence from bankruptcy as a significant factor in the market's stability. NewPage, along with Verso, controls about 45 percent of magazine and catalogue paper use, he says. "They assert they are going to come out with a stronger balance sheet. If that happens, then it will probably have no impact on the market and will be good for everybody. But it's not immediately clear what will happen." He also cites Catalyst Paper's announcement of its hopes to be acquired by another company. "Even though they are a modest player, because the market is so small, if by chance that doesn't happen and they elect to close facilities or go out of business, it could have a significant impact on the total amount of paper available."
Steve Johnston, director of manufacturing at Summit Business Media, says his company saw paper prices increase by about 6 percent in 2011, though much of that was eroded by the end of the year. He expects pricing in 2012 to be relatively flat and somewhat stable, but with all of the uncertainty, he says, "this is just speculation."
He notes that part of the uncertainty comes from private equity ownership of paper mills, as "their tolerance for nonprofitability is substantially lower."
But despite the closures that have already occurred, publishers don't seem to be struggling to buy paper, allowing for a market that still favors buyers wanting to push down prices.
Can Print Make a Comeback?
While the deathwatch of print media has long been underway, a dose of careful skepticism remains: "Many have blamed the decline in print on the changing way people want to receive their material," says Johnston. "But how much is it that people don't want to read on paper anymore, and what part is just the economy and the fact that people are holding back ad dollars because they are cautious?"
Mahlburg takes this up as well: "Advertisers like digital because it's less risky. You can pay by click and measure it. In downturns, advertisers tend to slash high-end advertising in print magazines. But we're used to tuning out banner ads or closing pop-ups on websites.Print advertising in glossy magazines has a greater impact on us."
But while Mahlburg says RISI doesn't predict the dramatic, immediate drop-off in print that others do, he does expect that increasingly interactive ads will make tablets much more attractive, leading to widespread mainstream adoption by 2013 and 2014.
Coping with the Uncertainty
Coping with all of this uncertainty requires publishers to be nimble. The key, say production experts, is to acknowledge that this is the marketplace from now until the foreseeable future and to put plans in place.
It's important to balance concerns, particularly of price and supply. While managing costs is always key, it is crucial not to put supply at risk.
"It is my responsibility to manage costs and ensure we have a stable relationship with our primary paper supplier," says Johnston. While he has brought down cost averages through spot and job lot buys—and a bit more so lately than in the past few years—he says, "I would never jump into a spot or job lot opportunity with both feet."
For him, consolidating paper grades has been a major help in managing cash flow and reducing inventory. He said he dealt with more than twelve grades of paper between 2005 and 2006, as a result of his company's several magazine acquisitions. Now, he's gotten that number down to six, decreasing inventory from an almost four-month supply to one-and-a-half to two. His company has also switched to a completely printer supplied cover stock.
Some publishers take comfort in the fact that Asian and European paper suppliers remain in the market, even if their product is more expensive.
But according to Mahlburg, some of that supply will decrease soon, as two major coated mechanical mills in Europe will close toward the beginning of this year.