The State of Green Publishing

What does it mean to be green in 2010-2011?
In 2008, FOLIO: began its first ever green publishing report like this:
"Tired of 'green' issues? You can thank Al Gore. It wasn't long ago—maybe three years—that a magazine publishing a so-called 'green' issue was considered innovative, leading—even brave. Now that seemingly every magazine feels it necessary to publish a green issue, it's become trendy to the point of annoyance—what experts refer to as 'green fatigue.'"
At the time "green initiatives"—from magazines printed on recycled paper to environmentally-friendly events—were a dime a dozen, ranging from true believers serving an environmentally-conscious audience as part of their business strategy to plenty of publishers jumping on the green bandwagon. In 2008, Discover mapped the life cycle of each issue to calculate its carbon footprint (962 tons of CO2 for about 1 million monthly copies). With the magazine selling to Kalmbach Publishing, its future commitment to green efforts is up in the air.
Today, however, the focus has changed from environmentally conscious to business survival. "What we saw a couple years ago was probably motivated by the notion that this is what advertisers want to see," says Bryan Welch, publisher and editorial director of Ogden Publications, which offers magazines such as Mother Earth News and Utne Reader (last month Ogden held its first Mother Earth News Fair, a green event that pre-sold 4,500 tickets and expected 10,000 attendees total). "I think the bubble will re-inflate when people have the time and resources—lately it's just been about keeping lights on and doors open. I believe all my magazine colleagues will move in this direction over time."
That's not to say the magazine industry has turned its back on green publishing practices. Shape (1.65 million rate base), Every Day With Rachael Ray (1.5 million rate base) and Fast Company (770,000 rate base) are all large magazines  using between 10 percent and 100 percent recycled paper. By the end of 2009, Hearst said 100 percent of its paper came from mills that are COC (chain of custody) certified, which enables the publisher to track the fiber all the way through the production cycle back to the forest.
Last year, Hearst and Time Inc. launched a program to help increase number of certified forests. Barnes & Noble once again teamed with Green America's Better Paper Project and Next Steps Marketing to offer special promotional space to magazines that use recycled paper, such as Natural Home, Mother Jones and The American Prospect.
Does Any Green Certification Count?
There are several different "green publishing" standards, and to the chagrin of some people, green publishing  today is more about touting any certification rather than meeting certain conditions.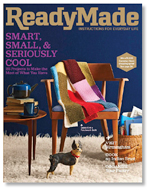 "Right now there is more focus on certification rather than recycled," says   Frank Locantore, director of the Green America Better Paper Project, which advocates certification from the Forest Stewardship Council (FSC). "Unfortunately, the basic message that's out there is that 'any' certification is good. That is really mudding up the waters and doing a disservice to real certification. The FSC has fewer hectares of land that are certified because it's a more stringent certification process."
However, even some dedicated green publishers think any green certification is good at this point. "There are a lot of different standards out there and we concluded that our best and most reasonable strategy was to take all of those that had a significant amount of credibility and meet the standards for all of them," says Welch. "Any certification is better than none at all because it means the publisher has met a standard. I stay clear of what standard is better because each serves to raise consciousness. At this stage, that's more important than any one technical detail or another."
Jeff Wellington, publisher of Meredith's do-it-yourself title ReadyMade, which is printed on 90 percent recycled fiber with minimum 30 percent post-consumer waste and COC-certification, agrees. "My assumption is that, with the exception of the production people, most industry people don't know the difference."
Is Green More Expensive? Sometimes, But It's Not a Deal Breaker
Going green can be more expensive, at least with paper surcharges, but it can actually be cheaper in the long run.  "Aside from things like carbon offsetting, which has a cash value, I don't think we suffer any material costs for operating the way we do," says Welch. "In terms of cash outlays, there is relatively little. The main cost is in the time and attention we have to pay to do these things. Today we get prices on recycled paper that are competitive with conventional sources. The soy inks are competitive with petroleum-based inks and it goes right down the list. Most of the highly environmentally conscious materials are competitive with conventional sources."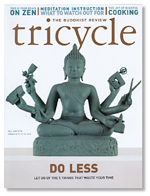 Tricycle's Green Journey
Tricycle is a quarterly magazine about independent Buddhism. Traditionally, the magazine was printed on 60 pound Somerset stock—a heavy, very bright sheet. In 2009, Tricycle decided to go green by converting its August issue to recycled paper. "We're a not-for profit and we have to be very cost conscious," says controller Alyssa Snow. "We also started looking at the fact that we're a Buddhist magazine, and those principles include looking at the source of where things come from."
Tricycle did its conversion in phases, dropping to a 58 pound sheet, then a 48 pound sheet. "It's hard to do in one fell swoop," says Snow. "We had to decide what was more important—the percentage of recycled content or the FSC? We went with the FSC because at least we knew the source was good."
The drop in weight enabled Tricycle to save 10 percent annually on paper and postage. The magazine moved to FSC-certified sheets that were 40 percent recycled.
However, maintaining its source of recycled paper proved to be a challenge. "We found a mill making a sheet that was beautiful and we grabbed it," says Snow. "But within the last couple of weeks, we found out that this mill no longer makes that paper. We bought two issues worth and we're now searching for equivalent paper from someone else. The paper industry is pretty volatile that way and there are even fewer choices now with recycled and FSC-certified paper."
Snow says that it's publishers themselves who are the biggest stumbling block to making the switch to recycled paper and other green practices, rather than readers or advertisers.
"Tricycle is ad-supported but the advertisers didn't notice it, they just commented on the brightness of the paper. The readers didn't notice it. Even our board of directors didn't notice," adds Snow. "Then we decided that we couldn't polybag any more and that's what people noticed. It's the publishers who have the hardest time with the change. If it can be done by a small not-for-profit like us, it can be done. It's not cost prohibitive, it does not forgo quality. We have to get on the phone with vendors and say this is what we want. It's the customer that creates the market. "
SIDEBAR
One Publisher's Green Checklist:
Ogden Publications publishes green magazines—like Natural Home and Mother Earth News—targeted toward people who are interested and invested in sustainability. Ogden also walks the walk of sustainability. Here are some of the green practices Ogden follows:
All Ogden magazines are printed on stock that is at least 90 percent post-consumer recycled paper and 100 percent chlorine-free.
All Ogden magazines use at least 28 percent
soy-based inks.
Recycle old copies of all magazines.
Participates in Barnes & Noble green promotion sponsored by Co-op America.
Editorial team uses laptop and projector to display layout on screen for group editing (reducing paper waste).
Auto-renewal subscriptions are guaranteed to be sold and renewed at the lowest price available. For Mother Earth News that means $10 per year, new or renewal. 
Meet the Author
---