The State of Digital Magazine Delivery, 2008

How much circ should be digital and whether they should be new subs or converts.
Digital magazines are booming. The anecdotal and statistical evidence is overwhelming. Why? Analysts point to a variety of reasons, from a new generation of readers wanting a "high-fidelity" experience that combines elements of both print and online media, to the comfort level younger readers have with all things digital, to the natural synergy digital magazines have in the b-to-b space.
Whatever the reasons, the effect is obvious. Digital magazines appear not to be the transitional technology that they were perceived as not too long ago but are, instead, a hybrid technology of choice for many publishing brands and consumers.

There is no question that the growth has been remarkable, even putting aside the hype from the suppliers. Four of the major providers—Texterity, Nxtbook Media, Olive Software and Zinio—reported a combined 585 digital titles in 2005. This year, those same four suppliers report a combined 2,718 titles. And that almost certainly understates the total number of digital magazines, considering some longstanding vendors such as Qmags or Advanced Publishing weren't included, nor were the slew of vendors that have cropped up in the last couple of years, nor were the increasing number of printers that offer such solutions, nor were the magazine companies that produce their own digital replicas, such as 1105 Media.
Why do they opt to produce digital editions? Many reasons. Consider Playboy, for example. It has about 60,000 digital readers on a total circulation of more than 2 million, and it's mostly incremental readers. Phyllis Rotunno, senior VP of subscription circulation, is surprised more magazines haven't picked up on the digital trend. "It's a low cost of entry," she says, "and you really don't have anything to lose. Digital has been a great outlet for us, and we're happy with it."
"The number of publications that are moving into their initial digital effort is still very significant," says Steve Paxhia, lead analyst in the Publishing Strategy & Technology Practice at The Gilbane Group. "While the base isn't large, the number is actually growing quite nicely. It's safe to say that it is growing in excess of 25 percent per year."
And as that growth continues, Paxhia sees three predictable steps in the assimilation of digital-magazine technology:
1. People tend to accept the technology with which they're most comfortable. That would be a replica or facsimile—a post-process digital version of a print publication. That preserves the browsing metaphor that print readers get from a physical magazine, and it also offers scanability.
2. Often what happens, and it could happen simultaneously, before, or after launching a digital version, the publisher puts some or all of the magazine's articles on its Web site. That doesn't preserve the formatting and navigation of the digital edition, but the content is accessible and searchable. You then have both ends of the continuum, but that often becomes an internal bifurcation of the publisher's digital strategy.
3. Having the two ends of the continuum start to come together—blending the digital magazine and the Web site—is what many customers really want. Readers want to be able to search when they want to search and browse when they want to browse and contribute when they want to contribute.
Some of the Trends
The digital-magazine market has been vibrant for less than five years, but it nevertheless has enough maturity to have developed some interesting and important trends. Publishers are starting to realize, for example, that this isn't simply a plug-in technology. It requires focus and attention for the initiative to be successful. "It must be considered a standalone product that gets its own energy from the sales and marketing staff," says Nxtbook Media's marketing director, Marcus Grimm. "That will determine the success or failure of the digital publication."
Also, the technology has gotten much more robust in the last couple of years. Vendors can add RSS feeds, enhanced ads, and many more bells and whistles, while the publisher still needs to supply only a PDF of the magazine. That means that small publishers who can't afford to dedicate the resources necessary to keep up with cutting-edge trends can also participate.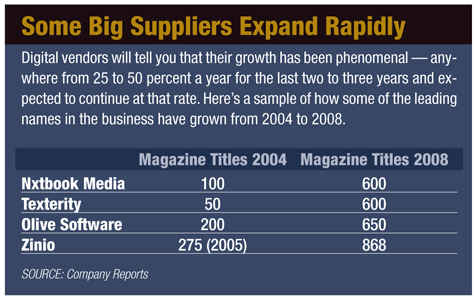 "As the Internet continues to evolve, the high-fidelity experience has become very important to consumers," says Zinio CEO Rich Maggiotto. "The magazine layout is quite conducive to that and can become a graphically intense, rich media experience. Some content providers realize that they must expand to rich media in order to ensure against audience erosion. Others are slow to move. At the end of the day, though, publishers are content creators and audience builders. They have a brand, a trusted brand, not a magazine."
In large part, the industry is still being shaped by the needs of the marketplace, according to John Blanchard, VP of operations at Reed Business Information. "Quite frankly, I don't think it's moving fast enough," he says. "Digital edition vendors are monitoring the needs of the publishers and modifying their platforms accordingly. I'd like to see them come up with more innovative ways to use the technology and then integrate it within the publishing platform."
Defining the audience and finding the "sweet spot"
No one believes that digital will replace print. Yet kids 18-34—which Stephen Bernstein, president of Zenbu Media, calls "the sweet spot for digital"—are techno-savvy, on the computer a lot, and like their information portable. "And as the technology continues to improve, which all technology does, it will make them even more excited about reading in a digital format," he says.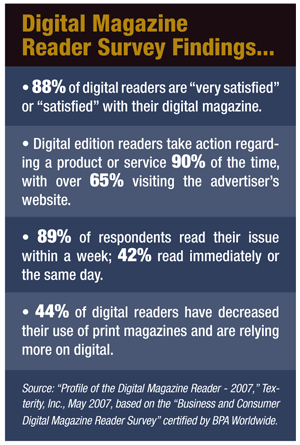 On the other hand, Texterity's Cimarron Buser believes that trade magazines are "the sweet spot"—at least in terms of acceptance. "B-to-b publishers have found digital delivery useful because of the cost savings and the ability to reach out internationally," he says, "and advertisers seem to be responsive in that arena." The readers—whether consumer or b-to-b—are also responsive. Key findings published in Texterity's "Profile of the Digital Magazine Reader 2007" indicate high overall satisfaction with digital magazines (see chart, right).
Nxtbook's Grimm agrees. Nxtbook's clients are about 90 percent b-to-b. The company has been growing 30 percent for the last three years in both readership and revenue—a trend Grimm expects to continue. "Every month, more than a million people read a Nxtbook," he says, "and they stay inside for five minutes compared to the average stay of less than a minute on a Web page. The click-through rates are also higher. It's just a different type of experience." So he believes the b-to-b sector is "a natural" for digital delivery.
Of course, taking into account Zinio's 300 publisher clients that represent 850 mostly consumer digital magazines—a number projected to reach 2,000 titles by the end of the year—the consumer market looks like a "sweet spot," too.
Nevertheless, with the exception of portability and speed of receipt, there aren't a lot of reasons to prefer digital unless there is value added beyond the publication itself. "We've learned over the last year that it really isn't about pulling a print reader to digital or getting a digital reader to convert back to print," says Grimm. "It's really about giving the product to both audiences in the way that they prefer to receive it." And a reader may prefer one at one time and the other another time.
"Digital editions by themselves won't drastically increase your circulation," confirms Peter Spielvogel, director of product marketing at Olive Software. "You will find some environmentally conscious people who prefer to receive only a digital edition. The real value comes when publishers embellish their offerings with multimedia ads or content, adding more value for both readers and advertisers and attracting a more technology-oriented subscriber."
Meet the Author
---