State Department Gets Shelter Mag Makeover

MPA and State Department partner to revamp historical rooms for the holidays.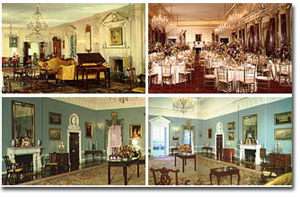 The Magazine Publishers of America announced today that the U.S. State Department has enlisted the magazine industry to help decorate 17 rooms for the holiday season at the U.S. State Department buildings in Washington, D.C.
An early gift for the remaining shelter titles, the "Magazine Holiday Design Showcase" is planned as an annual event and "part of an ongoing campaign to highlight the furnishings
and art in both the Blair House and the State Department," according to the release.
Participating titles, including Better Homes and Gardens, Martha Stewart Living, Mother Earth News, Natural Home, This Old House and Traditional Home, are racing against the clock to complete these rooms from start to finish in only a few weeks. "This [the partnership] hit our radar screens earlier this month [November], so it's been a rush," MPA senior vice president of communications & events Howard Polskin told FOLIO:.
Of course, shelter titles are no strangers to designing show rooms. Over the past few years, publishers like Hachette and Hearst, among others, have launched initiatives pairing their shelter titles with various kinds of room design.
As part of the showcase, each magazine will be assigned one or more historic State Department rooms [pictured]—Diplomatic Reception rooms in the Harry S. Truman building or receiving rooms in the Blair House, the President's guest house for foreign dignitaries—and are scheduled to unveil the final designs on December 7.
Among the 17 rooms undergoing a mass magazine makeover, The Blair House Back Room will be
decorated by Better Homes and Gardens with a nine-foot Christmas tree covered in coral-colored ornaments, while Mother Earth News and Natural Home will execute a non-traditional Adams Room design at the State Department with growers from across the country providing rare varieties of heirloom grains, apples and other foods.
The magazines are funding the makeovers themselves. Polskin told FOLIO: that each magazine would determine its budget for this project and only put in "what they feel comfortable spending."
Meet the Author
---