In recent years, auditing bureaus ABC and BPA Worldwide have been working to offer ways in which members can offer advertisers more complete views of their brands. ABC introduced its Multimedia Publisher's Statement for consumer magazines in 2008 and b-to-b magazines in 2009, while BPA introduced its Brand Reach Audit last year. Both reports are designed to capture the full range of customer interaction with a multiplatform brand. Adoption, however, has been slow and, on the consumer side, agencies are content with third-party reported metrics, for now.
BPA's Brand Reach Audit displays data on virtual events, mobile, digital, email, and more. Stamats Business Media was the first to complete a test audit for its Meetings West brand. Since then, Stamats' reports have been reviewed by BPA advisory committees, and aside from a few minor concerns, the response has been positive. "They all felt that we were hitting the mark with these reports," BPA SVP Rich Murphy said.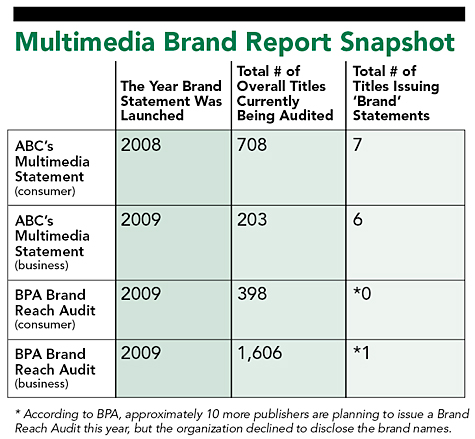 Murphy added that about a dozen publishers are lined up to include the Brand Reach Audit in their December statements. In fact, Thomas Publishing Company, which canceled its BPA membership for its title Managing Automation last year, returned when the Brand Reach Audit was created. "We canceled the audit because we were reevaluating our circ strategy at the time," publisher Heather Holst-Knudsen said. "BPA wasn't up to speed. But they came back to us and gave us an overview of what they were trying to accomplish and it seemed that it was in line with what we wanted to do—auditing a database as opposed to just auditing print subscriptions."
One issue holding back publishers is investment in integrated databases. "Everyone wants to move towards an integrated database, but we haven't seen a lot of publishers that have had everything integrated yet," Murphy said. "They may have two or three channels ready, but are outsourcing their Webinars or email distribution. So there's a level of file work and manipulation that has to take place before they can be audited."
ABC Goes for Flexibility
ABC's Multimedia Publisher's Statement for Business Magazines was designed to be just as flexible, according to Ken Shultz, ABC's VP of Audit Services and staff liaison to the Business Publication Industry Committee. 
Even with the flexibility that's built into the report, Shultz said that ABC continues to evaluate the number of components that are used. "E-readers, mobile platforms, and others are an ongoing discussion for us," he said. "We're exploring how much more detail can be provided."
McGraw-Hill is one of the few publishers to release Multimedia Publisher's Statements, one for Engineering News-Record and another for Architectural Record. Maurice Persiani, VP, business services, The McGraw-Hill Companies, said that, so far, it's been well received by the company's sales staff. "It easily brings about a conversation between the staff and our advertisers about total media rather than just print," he said. "It's been a game changer for us."
ABC's Multimedia Publisher's Statement for Consumer Magazines, which was created independently from the statement for business magazines, also has only a handful of early adopters—about seven—but expects more publishers will release statements as their brands progress. "As magazines continue to expand and establish their digital distribution plans and practices, and as advertising grows in these segments, we expect more member participation in our portfolio of digital reporting options," Theresa Perry, ABC's SVP, publisher member audit and report processing services, said.
Perry added that the current format of ABC's traditional statement and the Multimedia Publisher's Statement for Consumer Magazines already allow publishers to include circ data generated from e-readers and mobile devices as long as they contain advertising. Conde Nast's GQ iPhone app is one example of this.
If a publisher wants to report circ data from e-readers or mobile phones via platform, they could release a Consolidated Media Report, which is more focused on the distribution channel. But ABC has yet to release a CMR for consumer magazines.
comScore Still Good Enough
Jayne Jamison, publisher of Hearst's Seventeen, one of the early adopters of the Multimedia Statement, said that while it's great to have all of Seventeen.com's metrics in front of the title's print advertisers, most agencies tend to look at comScore metrics. "Every medium has its own source for audience information, so it's really hard to say that the mobile community, for example, looks at an ABC statement," she says. "And it would be interesting to know if the Online Publisher's Association supports the [Multimedia] statement."
Jamison added that the Multimedia Statement would be even more beneficial if it included Web metrics such as time spent and the number of pages viewed per unique visitor.