DRM flexibility. In the past, a publisher's Digital Rights Management system would create a wall to prevent unauthorized readers (e.g., non-subscribers) from viewing the digital magazine. In effect, the magazine would be either open or locked. Since paid online content doesn't play as well as free, and search engines can't see content that's behind a DRM wall, publishers are experimenting by opening one issue and closing the others, for example, or opening the first 20 pages of paid content for free, or perhaps trying "free-content Fridays." As publishers become more creative with their content strategy, vendors are responding with options that offer ultimate DRM flexibility.
IAB-standard ad positioning. The Internet Advertising Bureau has standardized sizes and specifications of Web advertisements. Publishers (or advertisers) sometimes want to use Web site ads in digital magazines. As a result, digital magazine technology is adapting to Web standards, and vendors are adapting their platforms to handle IAB-standard advertising. Advertisers and/or publishers can simply use the standardized IAB microbar, with which they're familiar, to size and position their digital magazine ads.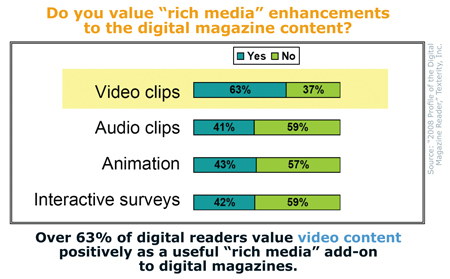 Multi-dimensional ads. Last year's generation of digital magazines had rich-media ads. Today, an advertiser can place rich media or video in a window that pops up when the reader's mouse hovers over a standard IAB micro-button. The technology allows the publisher to extend the capabilities of rich media to an IAB-standard ad.
Tracking. While many magazine companies have become platform agnostic from a reader perspective, not as many are platform-agnostic from a publisher perspective. In other words, while it's important for digital magazines to run on all platforms and in all the different browsers, the reporting to the publisher from each of those sources often relies on different metrics. The publisher shouldn't have to combine disparate reports to track the engagement of the entire digital readership. Suppliers are starting to standardize the reporting metrics so that publishers can easily access not only what's going on in all the various systems, if they wish, but also get an overall picture.
Web-worthy metrics. Publishers have extremely sophisticated tracking systems on their Web sites and expect the same from digital-magazine vendors. That has meant adding a ton of functionality and features, including Web-worthy metrics, to tracking systems and providing instant reports. When 5,000 readers have read a certain article, for example, the writer or editor might get an e-mail to that effect. Or the sales rep might get an e-mail saying that a certain ad has been clicked on 15 times.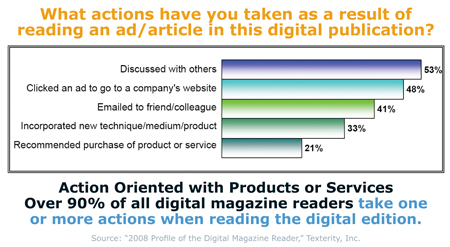 New Features
Branded e-catalogs. Some vendors support e-catalog functionality, where b-to-b publishers can offer their advertisers an almost unlimited opportunity to include their entire catalog or brochure in a digital buyer's guide or an ad-sponsored supplement to their digital magazine. Tabs separate the advertisers or topics. Some vendors offer full e-commerce functionality; others offer order forms that are processed offline.
Frames. Many digital magazine systems require the user to open up a window that takes over the whole screen. That is often seen as a benefit in order to maximize the reading area, but some publishers prefer a window, or framed, format within their Web site. They want to promote the digital edition online and then enable the user to click and open the digital edition. It's a good way to introduce site visitors to the digital edition, because the majority of them—even diehard magazine readers—don't necessarily know about digital editions. They confuse digital delivery with reading a magazine on a Web site.
Offline download. Many people are using Adobe AIR to save very robust desktop applications. And even though the offline reader represents a fraction of all digital magazine readers, some people do want to download the digital magazine and read it offline. Creating such a book with Adobe Air delivers an offline experience that is superior to other digital magazine technologies. Whether downloads are allowed, however, always depends on the publisher's view regarding content protection.
Search/translate/listen. Digital magazines, including back-issue archives, are fully text searchable. Readers can search for points of interest within an individual issue or across an entire repository of back issues via a single search interface. Hovering over a cover headline in a selected issue identifies the starting page of the article. A double click brings the reader directly to the page. Then, clicking on a "translate" button immediately opens a window that displays an entire article in a reader's language of choice, either in the original magazine layout or in text format. The reader can also click on "listen" and a computer-generated voice reads the article aloud.
Social networking. Providers are offering options to participate in one-click social networking features that allow reader to "clip" or share items from the digital magazine to their network of choice, be it Facebook, Twitter or some other social network.
Video integration. Join in the conversation! A video or set of videos of a forum opens on a page in the digital magazine that is being read by a subscriber, and people are commenting about the article. As part of the experience, the reader can interact or comment without having to go to another point on the magazine Web site.