New Travel Magazine Partners with Dwell

Afar devoted to 'experiential travel'; Michela O'Connor Abrams on board.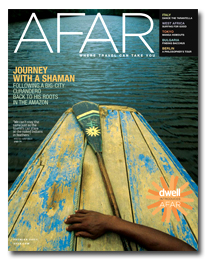 RELATED: Why Would Anyone Launch a Print Magazine Today?
Launching a magazine is difficult; launching a magazine in the current economic climate, some would argue, is downright crazy.
But Afar, a new travel magazine and Web site devoted entirely to experiential travel, is launching with an assist from Dwell, the award-winning design and shelter title led by Michela O'Connor Abrams. Both titles are based in San Francisco.
The magazine was conceived by Greg Sullivan, an entrepreneur and former arcade game manufacturer, and business partner Joe Diaz, a former teacher.
The partnership with Dwell will include shared sales and ad marketing resources, as well as shared office space in both New York and San Francisco. Afar president and publisher John Sheehy has worked as consultant to Dwell and developed Dwell's original launch plan. O'Connor Abrams will serve as Afar's chairman on its board of advisors; Susan West, former executive editor of Smithsonian and co-founder of Health magazine, will serve as its editor-in-chief.
The bimonthly magazine is scheduled to launch in September with an initial rate base of 50,000, increasing to 100,000 in 2010. Afar will carry an annual subscription rate is $19.95 and $4.99 cover price.
Rounding out the magazine's senior staff is Jane Palecek,  founding art director of Health and former design director of Mother Jones, who will be Afar's art director; and Laura Simkins, former consumer marketing director of Dwell, will be Afar's audience marketing director.
Meet the Author
---