Starcom MediaVest Group and ShareThis Partner on Social Measurement

Social Quality Index service to be integrated with comScore interface.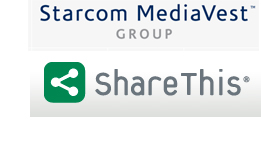 As social becomes a bigger component of marketing campaigns, brands are getting hungrier for performance data on the publisher side. Marketing agency Starcom MediaVest Group has announced a partnership with ShareThis to integrate its Social Quality Index into its media planning efforts.
The Social Quality Index, which scores a site based on how social its content is, tracks activity within 27 categories across two million publisher sites. Publishers use the Index to measure their audience's social engagement and brands use it to zero in on the publishers that will provide the most social bang for the buck.
SMG will be integrating the Index with its comScore MediaMetrix interface to so brands have a social engagement measurement to consider along with the other data they use to optimize media buys.
"It's a new measurement and we think it's going to become increasingly important," says Kurt Abrahamson, CEO of ShareThis. "If a user is going to take the time to find the share button and think about who to send it to, that's an important metric."
According to the two companies, which have been working together for the last two years, but have just now more formally integrated the Index, clients that have used sharing insights as part of their campaigns have had up to a 66 percent increase in ad interaction. Newsletter sign-up rates have jumped 234 percent.
The partnership comes at a particularly good time. The Financial Times reported on Monday that SMG and Twitter have signed a multi-year advertising deal worth hundreds of millions of dollars that allows SMG clients "special access" to ad positions and engagement data.
Meet the Author
---