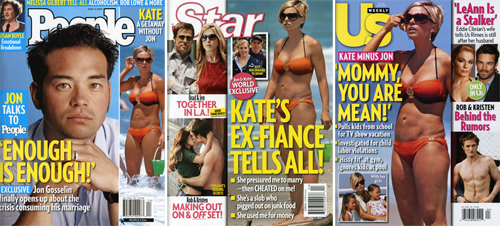 With the same three or four stories hogging the spotlight for a week or two (typically Brad & Jen, Angelina & Jen, or reality star of the moment), similarities between celebrity magazine covers are an occupational hazard. Not to mention the fact that so many mass consumer titles follow the same basic plug-in formula for their design (something legendary Esquire art director George Lois slammed back in 2005 at MPA's American Magazine Conference).
But the June 15 covers of Wenner Media's Us Weekly and American Media's Star seem to take it to a new level.
Both feature beach shots of reality star/villain/victim Kate Gosselin (in photos that look like they were taken within seconds of each other, from the same dune angle) with yellow cover lines and three yellow bullet points with white type hammering the cover subject. Both also feature a white third cover strip with two other cover subjects—and both feature secondary cover lines for Twilight stars "Rob & Kristen" (who are making out on and off the set, apparently).
Not to be left out, People's June 15 cover goes full Gosselin, and shares the same yellow cover lines, blue background, 1/3 cover strip and Kate Gosselin beach shot.
So in the spirit of Us Weekly's "Who Wore it Best," which of these extremely similar covers do you think will actually stand out at the newsstand?