Staffers Asked to 'Reapply' for Jobs Amid Reorganization at Johnson Publishing

Ebony publisher looking to 'strategically improve operational efficiencies.'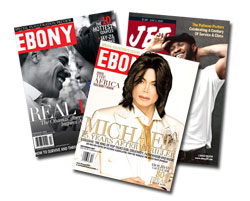 RELATED: How to Cleverly Spin Your Next Round of Layoffs
Chicago-based Ebony and Jet publisher Johnson Publishing is undergoing a "multi-phase" staffing reorganization in which employees will be required to reapply for new positions within the company.
In an e-mail to FOLIO:, a Johnson spokesperson indicated that  "current employees are eligible to be considered for new positions." The initiative is "not targeted to any specific individuals or departments," the spokesperson wrote.
As a result of the reorganization, Johnson says it expects to "see a net gain" in employee head count. "We are executing a multi-phase reorganization by adding new capabilities to service the changing media environment and expand the presence of our iconic brands while strategically improving our operational efficiencies," the spokesperson wrote.
The spokesperson declined to comment in detail on the process.
"Reshaping our organizational design will help ensure that we continue to evolve with the ever-changing media landscape," chairman and CEO Linda Johnson Rice said in a statement, also e-mailed to FOLIO:.
Earlier this month, three of Johnson's four managing editors—including Ebony's Lynn Norment and Walter Leavy, and Jet's Malcolm West—accepted early retirement packages and are no longer with the company.
Last year was a tough one for Johnson's magazines. Ebony saw ad pages fall 14.7 percent while Jet's pages plummeted 22.3 percent, according to Publishers Information Bureau figures.
Layoffs Hit Incisive Media, Again
American Lawyer publisher Incisive Media experienced another round of layoffs last week as 42 staffers were notified that their posititions were eliminated, FOLIO: has learned.
The cuts were company-wide and represent roughly 4 percent of the publisher's overall workforce.
In November, nine employees were cut from Incisive's real estate group. Early last year, the publisher cut more than 40 jobs across the board.
Meet the Author
---