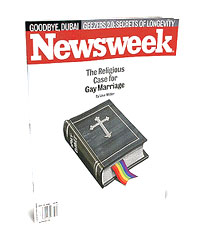 Newsweek is preparing for another round of job cuts.
The layoffs are expected to be outlined today in a companywide meeting, according to a Wall Street Journal report. The cuts are in addition to the voluntary buyouts offered by the Washington Post Company earlier this year. (A total of 111 took the buyout this spring; sources told the paper the number would be far less this time around.)
The news comes ahead of a possible circulation reduction, first reported by FOLIO:, that would eliminate as many as a million copies or more from its rate base, part of a broader plan to shift the publication away from a newsmagazine to an opinion-centric, "thought-leader" title more akin to the Economist—and a more concentrated, intellectual and affluent readership advertisers covet. [SEE FOLIO:'s REPORT:  Newsweek Mulls Dramatic Drop in Circulation]
Tough Times
Such a drop in guaranteed circulation is not uncommon, particularly in the newsweekly category. Time cut its rate base by 750,000 copies in January 2007. Newsweek followed suit, dropping 500,000 copies from its circulation in November of that year.
Meanwhile, the newsweekly category has suffered ad page declines at nearly every title this year, with Newsweek (-16.8 percent), The Week (-4.6 percent), Time (-19.2 percent) and U.S. New & World Report (-28.2 percent) down significantly through September, according to the Publishers Information Bureau.
'Provocative' Shift
The editorial shift at Newsweek may already underway.
"We are trying to be more provocative," editor Jon Meacham was quoted in the Journal report. This week's cover story—"The Religious Case for Gay Marriage"—elicited so many angry e-mails that Newsweek chief executive Tom Ascheim "had to open a new e-mail account to handle the added volume," the report said.